Website administrator: Steven Booth - email: stevenbooth@fastmail.co.uk

We have inherited many legacies from World War One (The Great War For Civilisation) and "TRENCH ART" deserves a place, as one.

During the Winter of 1914, an activity was developed in the townships and second line in France which was given an inappropriate name - "Trench Craftsmanship" (battlefield materials were taken and made into roughly executed souvenir memory items). Initially, fashioned in soldier quarters, rest camps, hospital or prison camps, for Family recipients, then very quickly, as saleable items to bolster the poor income of French soldiers. The Army saw it as a means of maintaining morale, by giving an occupation for troops, the majority who were peasants, workers or tradesmen awaiting unknown combat orders.

Items were either utilitarian objects, improving the daily life of the soldier who made them for himself or other companions, or emotional objects that made a connection between the soldier and his Family. Known later as "trench art" after a WW1 French newspaper competition awarded prizes in a competition for the most creative objects crafted by "the artisanat de tranchées" (craftsmen of the trenches).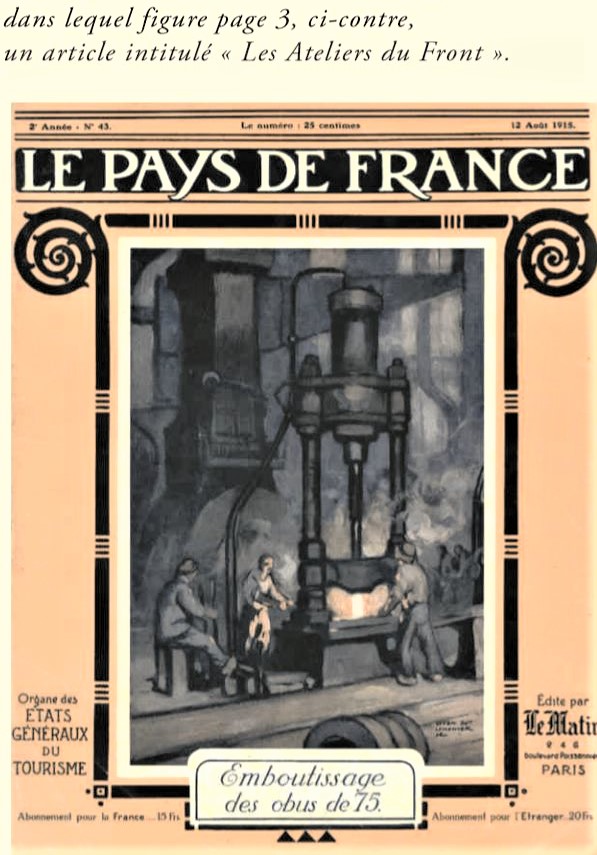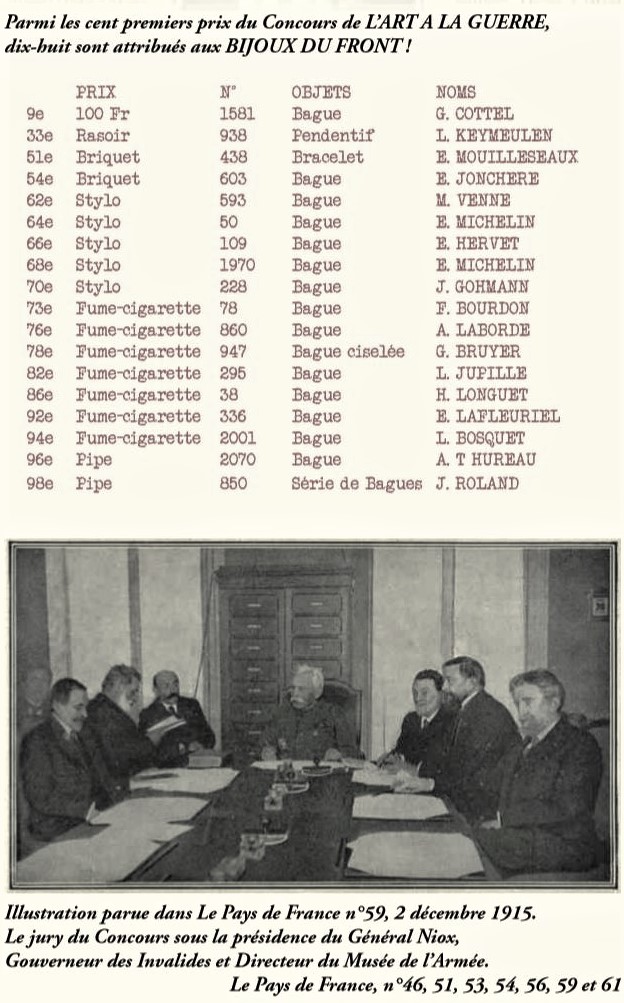 Very quickly, an entire industry developed and Trench Art appeared from Allied and Axis sources - the Armies, Navies, Submarines, Flying Corps, Auxiliary Services, Chinese Labour Corps., Rest Camps, Engineering Depots, Behind-the-Lines workshops, Prisoners-of-War, Wounded/Disabled Servicemen, Civilian artisans, French/Belgian cottage industries, Field Blacksmiths, jewellery trade. Also, commercial "Souvenir Workshops" also contributed, supplying demand from UK and foreign Stores for military memorabilia. In the United States, ammunition surpluses were mass-turned into commemorative items.
Individual and unique pieces were often crafted on a made-to-order basis for combatants to commemorate their war experience, maybe for a loved one or family member....or sometimes commissioned by the family as a memory item for a life sacrificed. Mass produced items were made for visiting battlefield pilgrims or tourists, also many designs fashioned well into the 1920's and the art noveau period.

The link below takes you to WW1 pages of interest and a world of unusual and emotional memory souvenir relics, crafted from battlefield debris, bullets, shells, shrapnel, mines, naval and zeppelin relics, aircraft debris, brass, copper, aluminium, wood, bone, beads, leather, cloth, silks, bakelite, stone, clay, resins, chalk, limestone; materials the human soul fashions when called upon by Fate, to face an unknown future path....
SITE MAP page link (click below this photo)