DRINKING VESSEL TRENCH ART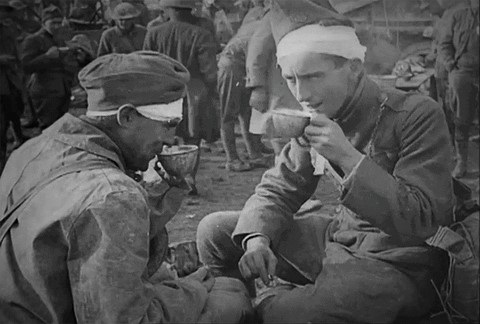 Aluminium made drinking vessels, engraved/etched/indented or scratched by war participants - now as "Trench Art"
(French: "Timbales / Gobelets / Tasses / Quarts")
Below: a French Soldier (Poilu) works on a timbale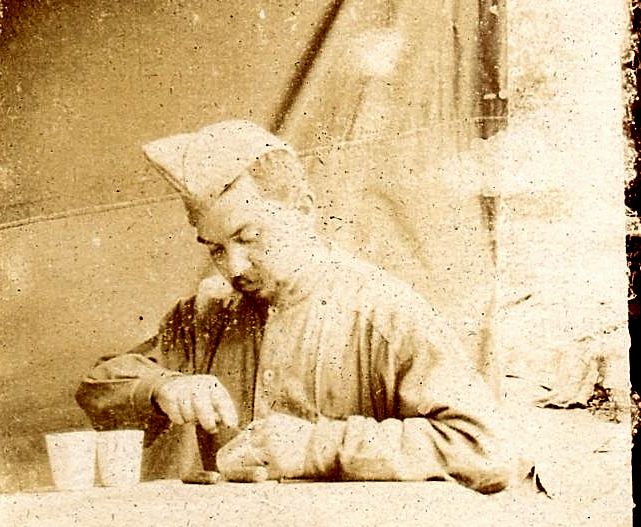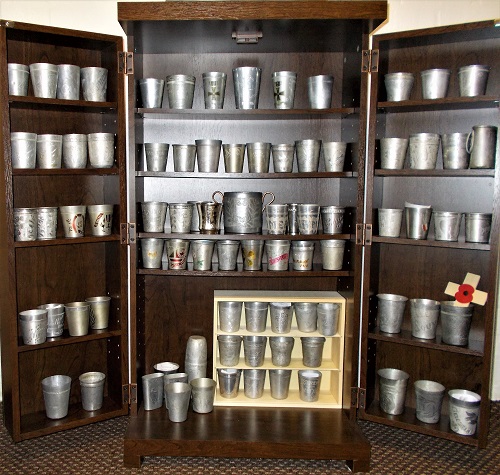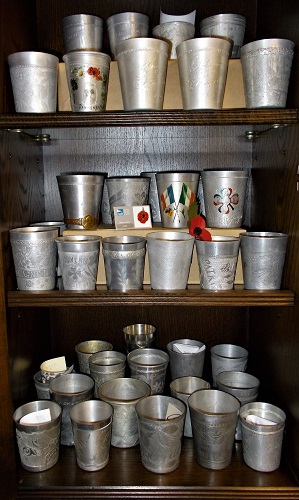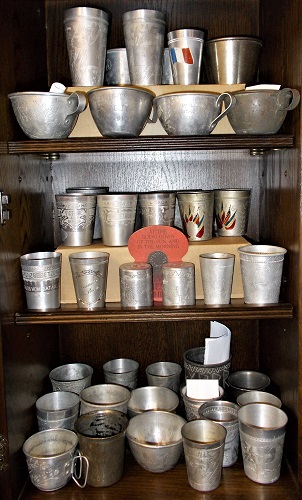 Manufactured drinking vessels were marked at some point in time after their making, to commemorate specific events of the war - place names, battles, names of loved ones for example. Many were made for propaganda purposes.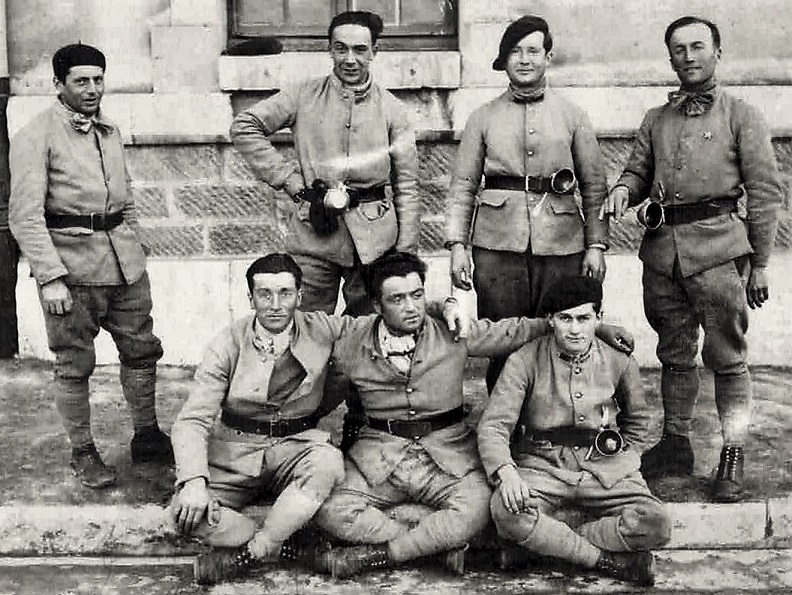 Group of soldiers, with some having drinking cups attached to their belts.
 
Whilst used in actual battlefield areas, these basic drinking vessels also provided sustenance for physically injured and mentally exhausted soldiers - for example, soldiers drank "Bene 'n' Hot" (Benedictine liqueur with hot water) given in Casualty Clearing Stations along the many ports in Normandy or Auxiliary Hospitals based in and around. Nurses would mix the medicinal drink with hot water to ease pain for some, or to raise the spirits amongst those on the wards. (One place in particular that gave itself up to become a hospital was the home of Benedictine D.O.M. - Palais Benedictine, Fecamp. (Hospital Auxillaire No: 34).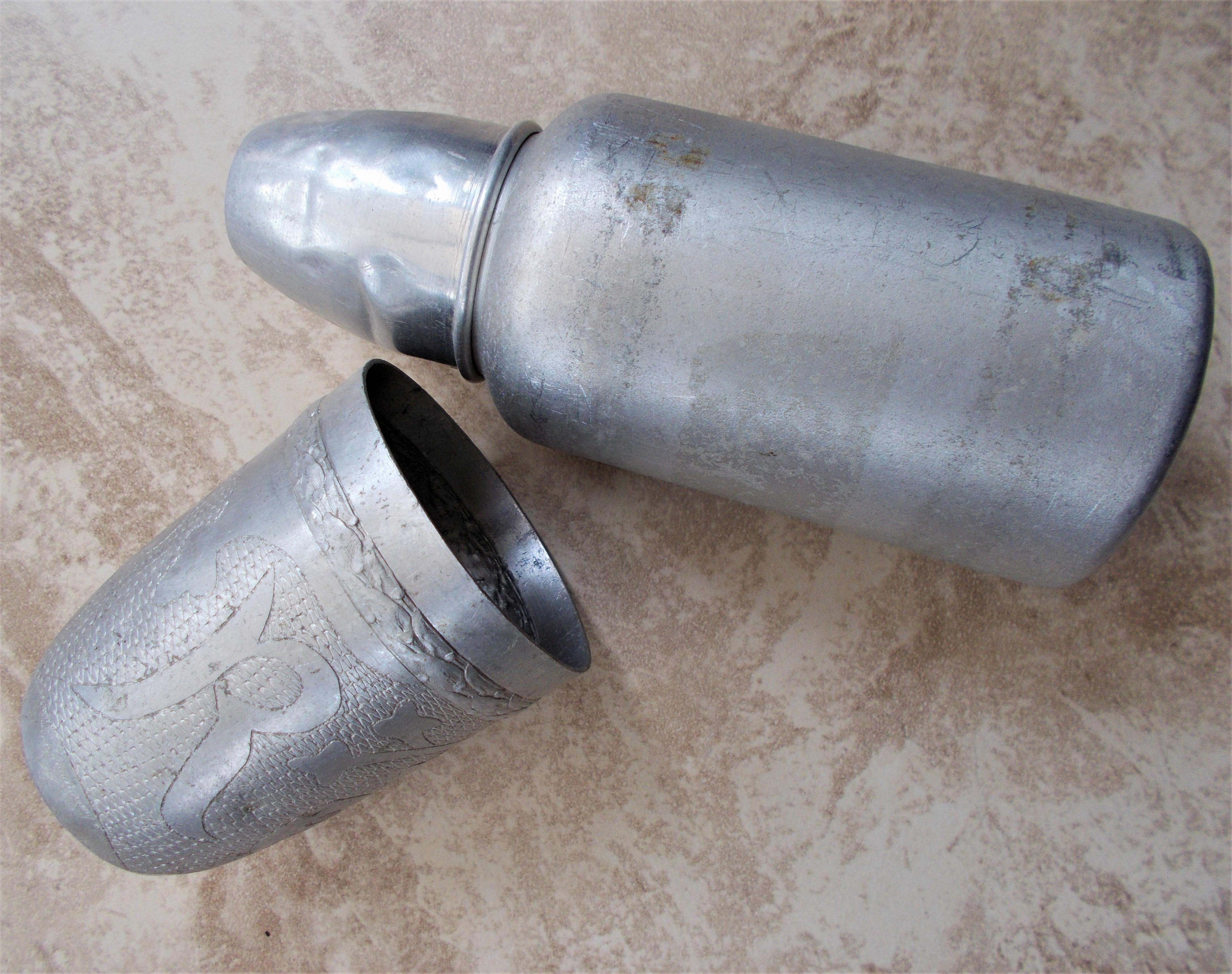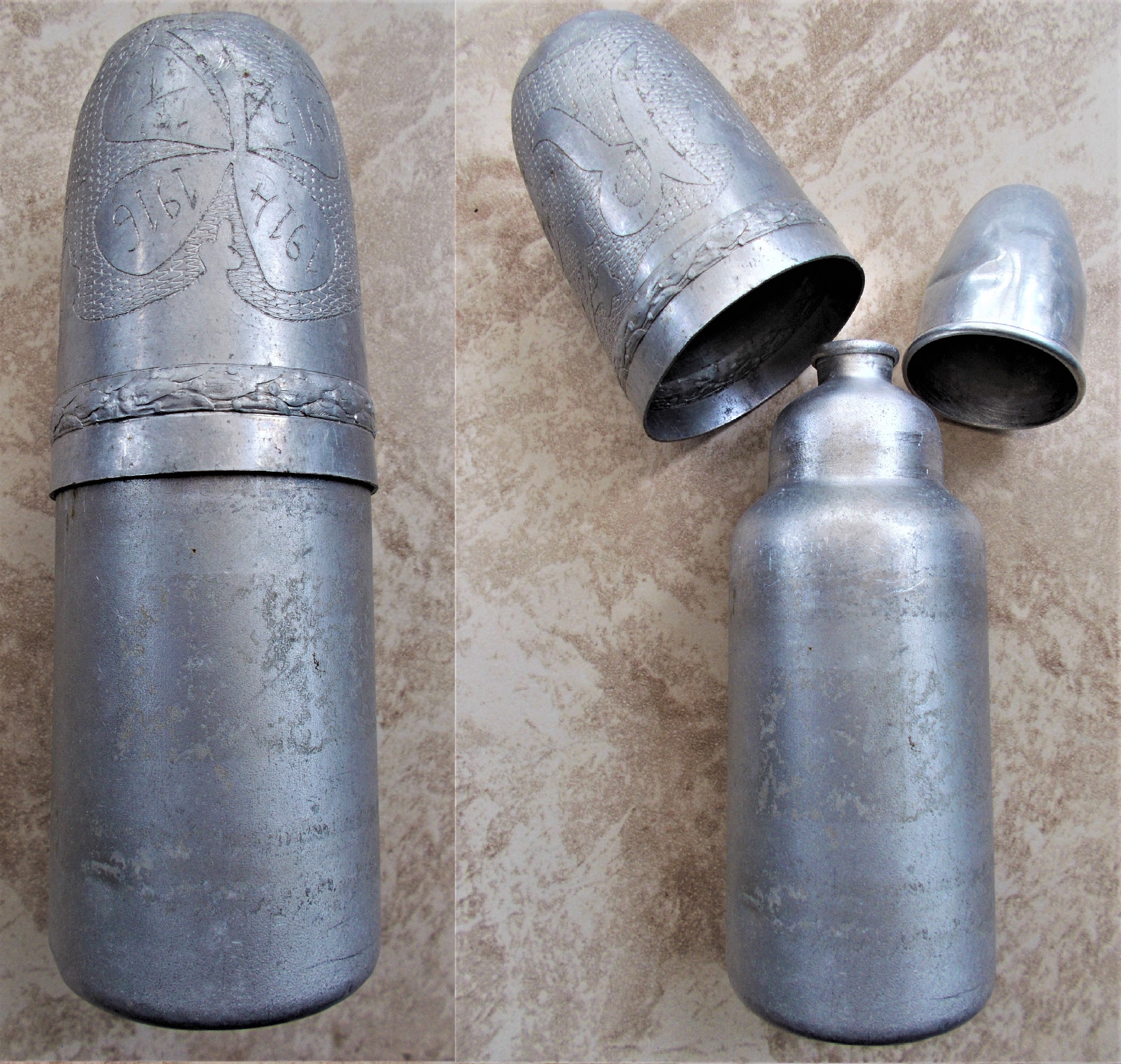 These souvenir vessels fall into several categories:
 
Basic crudely scratched/indented personal equipment canteen/drinking vessels actively used in battlefield environments.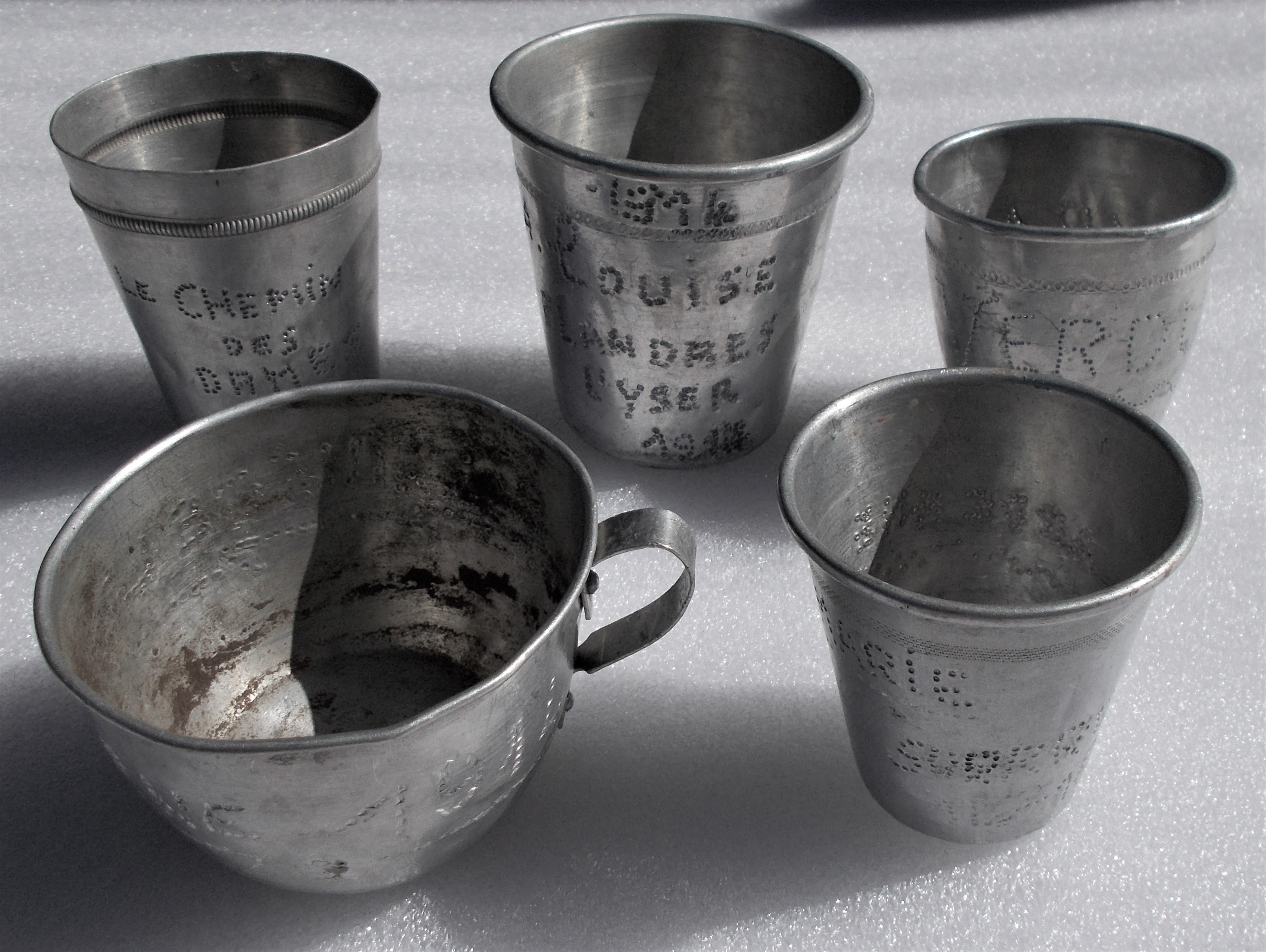 Engraved personal canteen objects crafted in makeshift or permanent workshops, rest areas etc. Usually found behind combat lines, but in battlefield environments.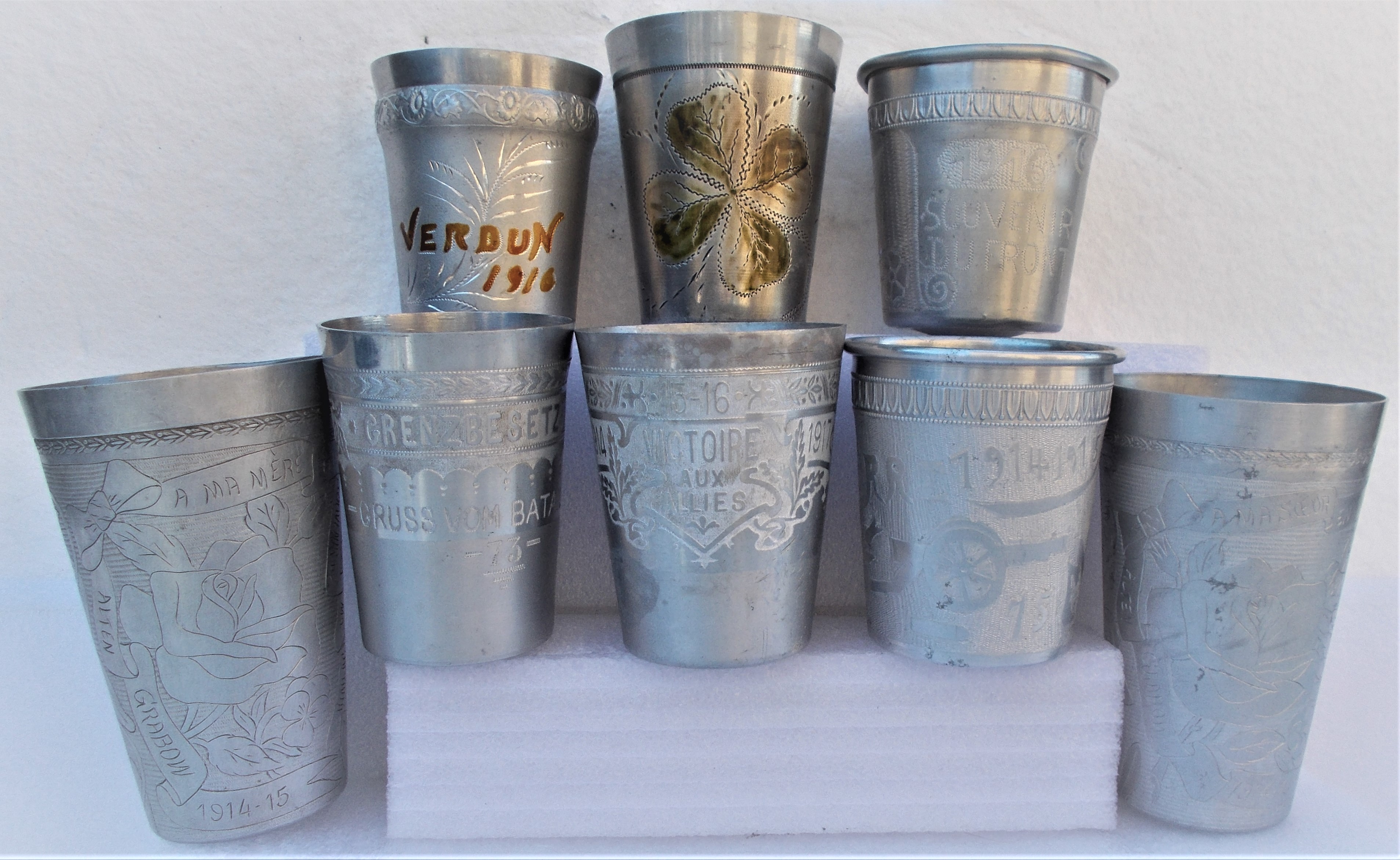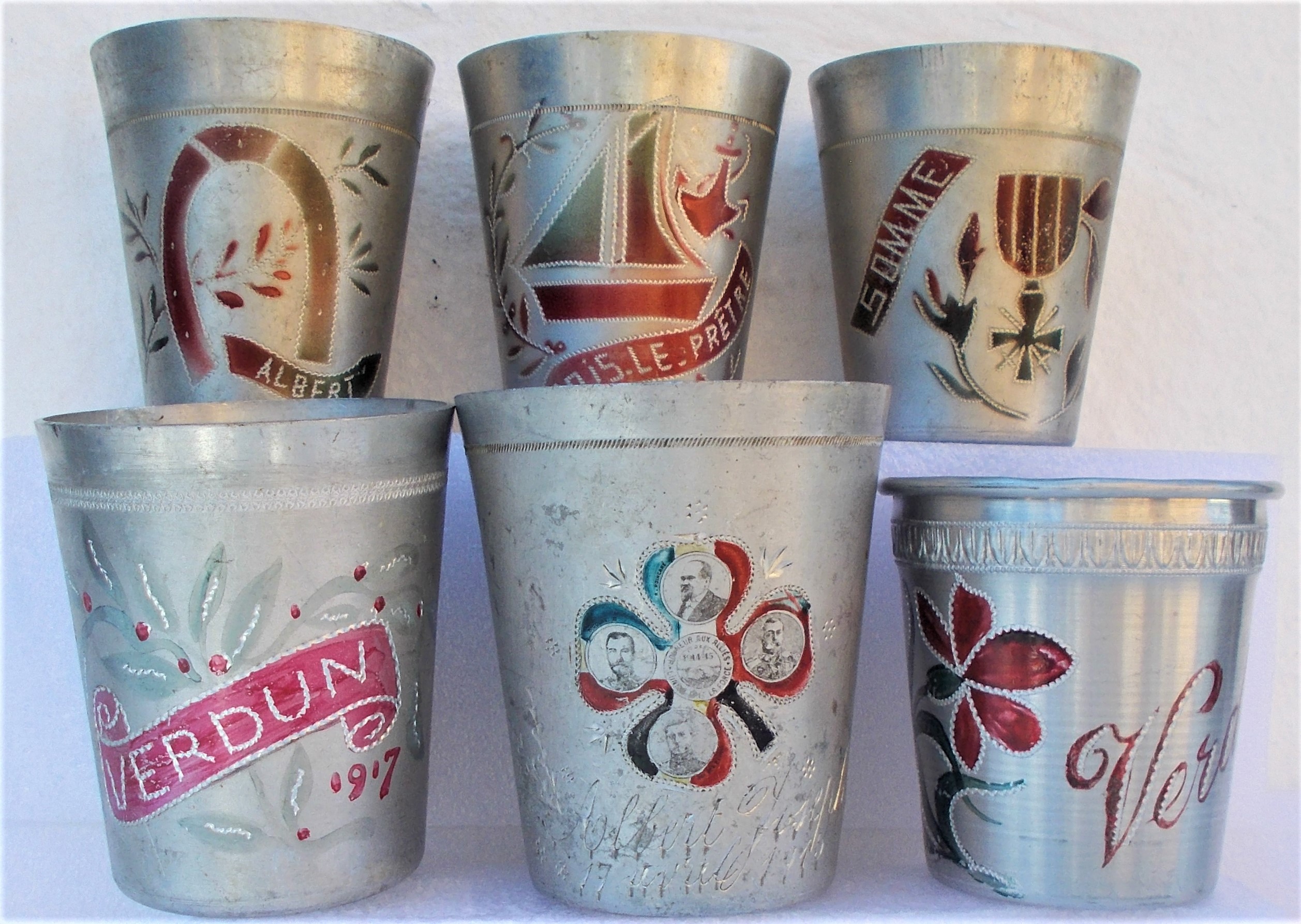 Vessels bearing initials/names of the owner, family member,
loved one/sweetheart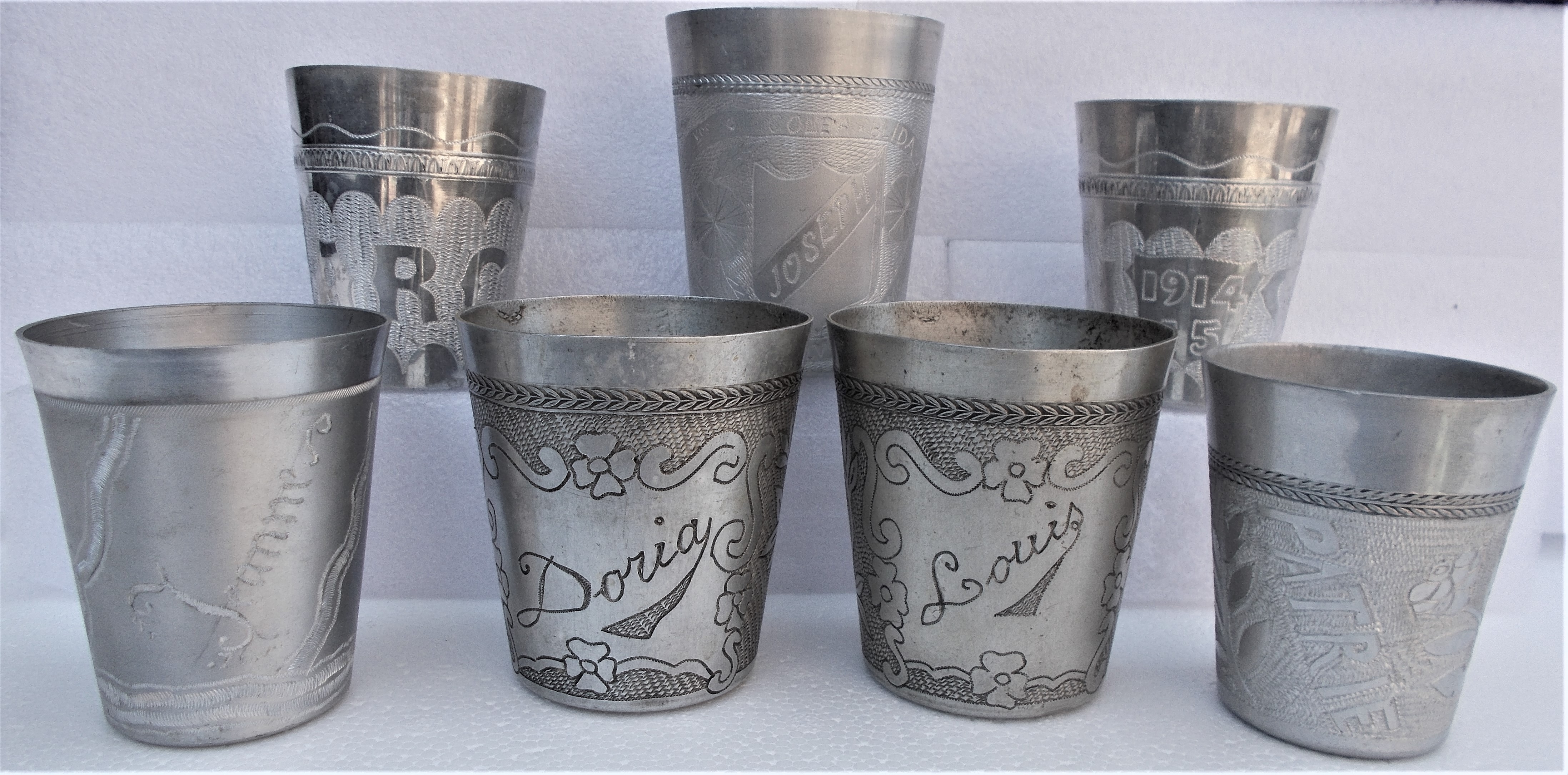 Timbales specifically commissioned by those wanting a memory relic of the war - bearing their name or dedicated to a Family member, sometimes with a date and/or placename, battle name or conflict area - maybe crafted by a third party for extra income to supplement their military pay, for example.

Below: showing the Initials of Family (reverse engraved 1916 on each)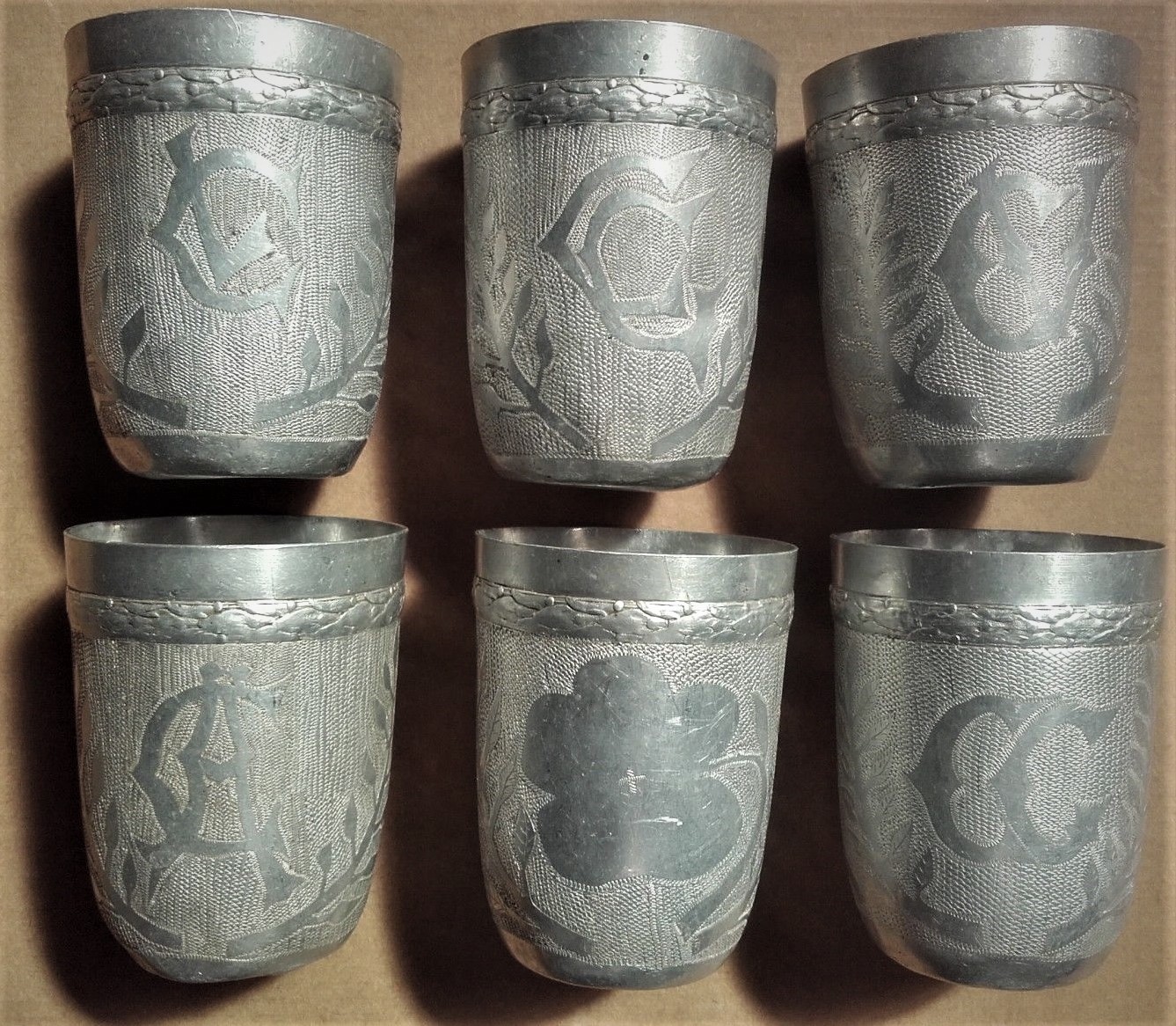 Nursing Medics' invalid feeding cups used by the French Red Cross,
originally called the Société française de secours aux blessés militaires (SSBM),
in hospitals, field dressing stations, convalescent homes. Objects were crafted as a result of programmes aimed at rehabilitating the wounded through occupational therapy. Engraving small drinking vessels could be done by bedridden and convalescing men, often in dedicated workshops.




(above) Timbales, marked "VERDUN"
The Battle of Verdun, was fought from 21 February to 18 December 1916 on the Western Front. The battle was the longest of the First World War and took place on the hills north of Verdun-sur-Meuse in north-eastern France.
 
Objects worked upon by American Service Nurses - enlisted to France in the Army Services (1918/19) in Trenches and Hospitals, who engraved items in "Idle Time" to reference their military experience. (AEF American Expeditionary Forces for example .. or the AFS American Ambulance Field Service)
 
Items realized industrially for propaganda or patriotic purposes showing coloured flags, sometimes emphasising "frontier occupations" between Countries....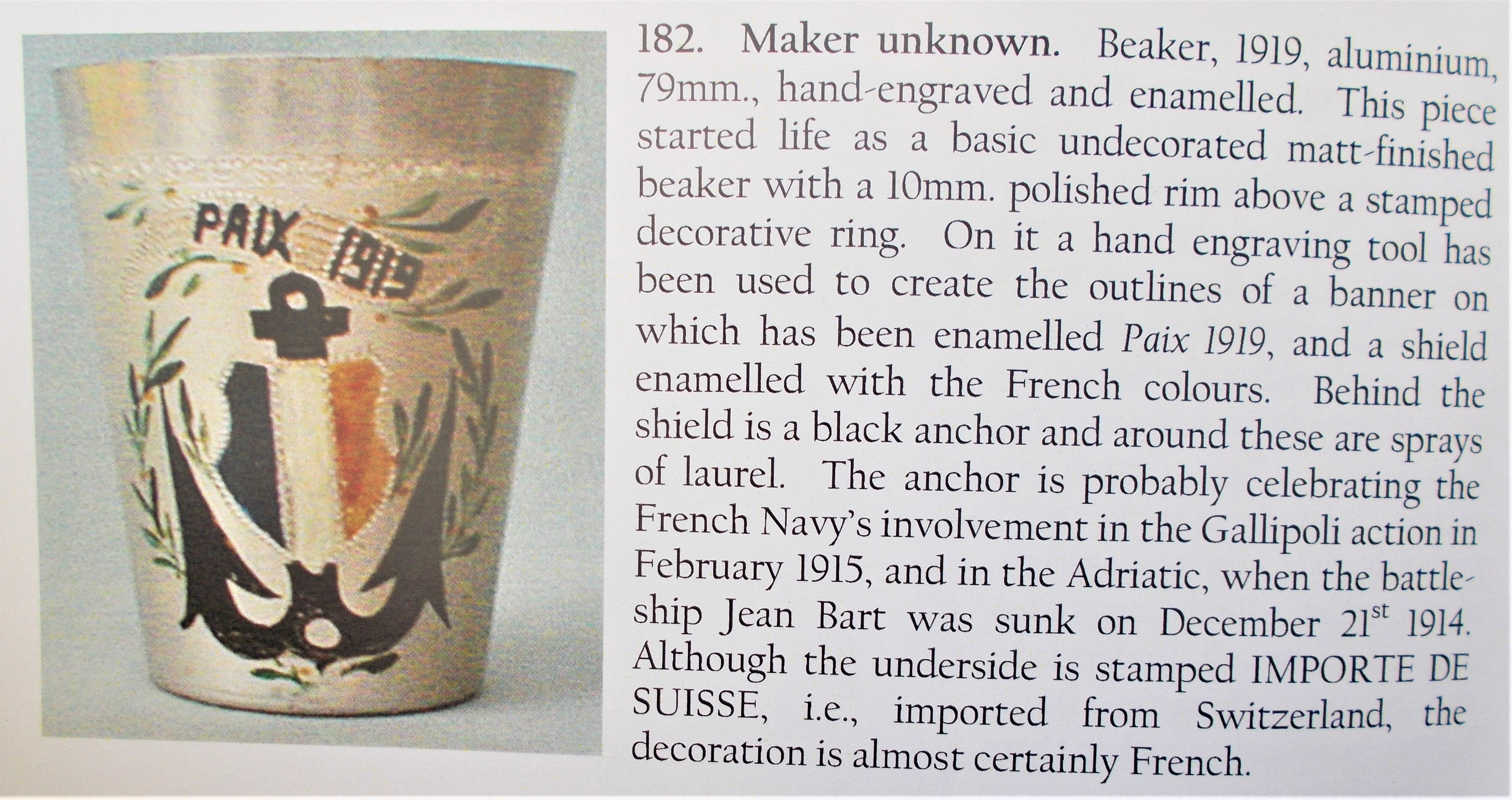 (Extract from "Memories of Conflict" by Anthony King)
 
"Production line" engraved timbale souveniers usually aimed for sale to post war battlefield tourists. These followed a set template pattern, being hand etched/engraved and decorated in repetitive styles (see below)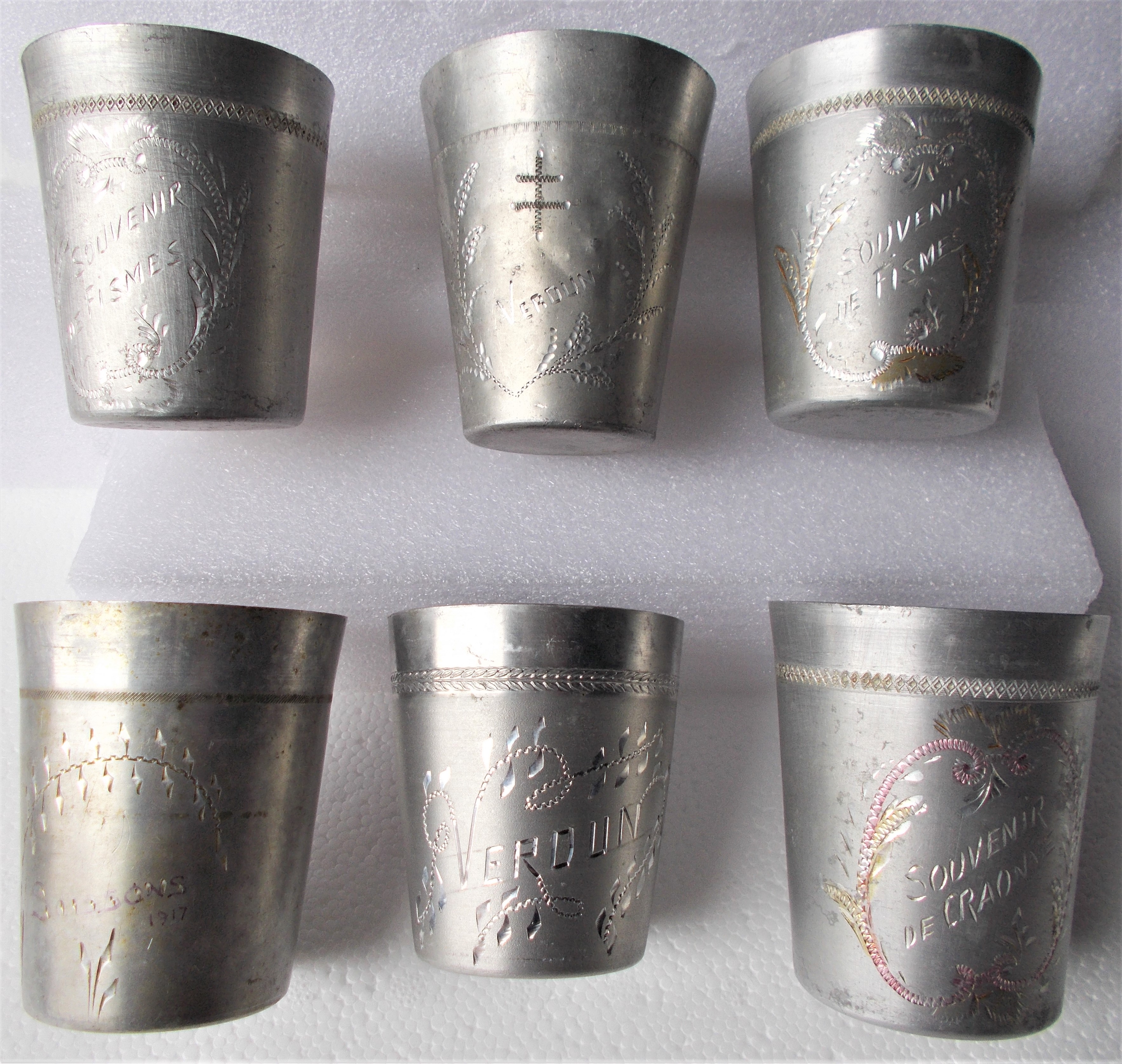 Baptism cups were made as gifts to Sons and Daughters, with their names engraved, usually with a date 1916 / 1917, as this was a period specific to French soldier parents, believing that the War would soon be over by 1917 !
Hallmarked silver metal goblets were also fashioned by some jeweller engravers, commissioned to order with Names, Dates or Place names (see below)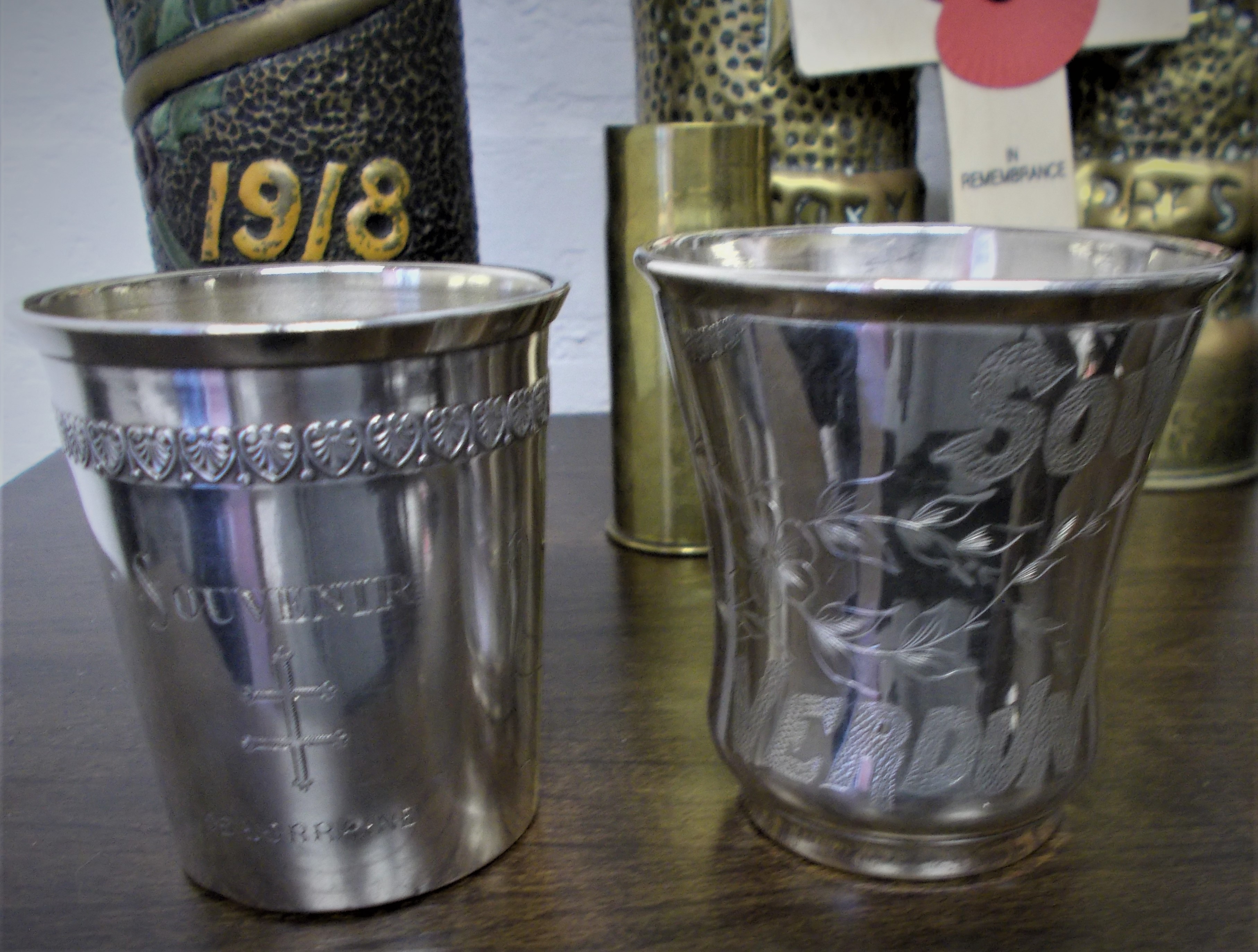 Drinking vessels bearing the legend: "Souvenir of the Orient" often decorated with a star and crescent, emblems of the Ottoman Empire, by those who participated in the campaign of the Orient of 1915 - 1916.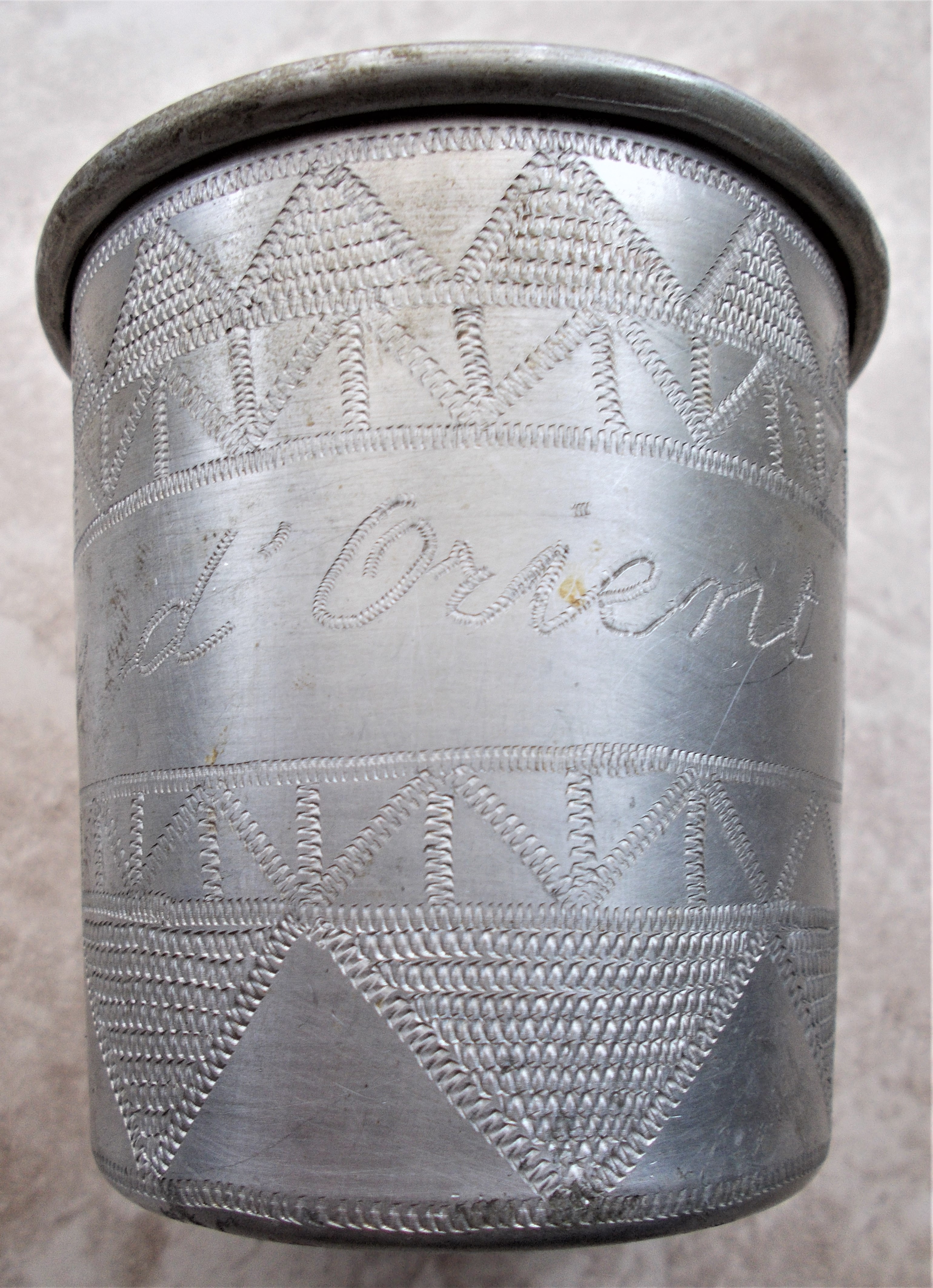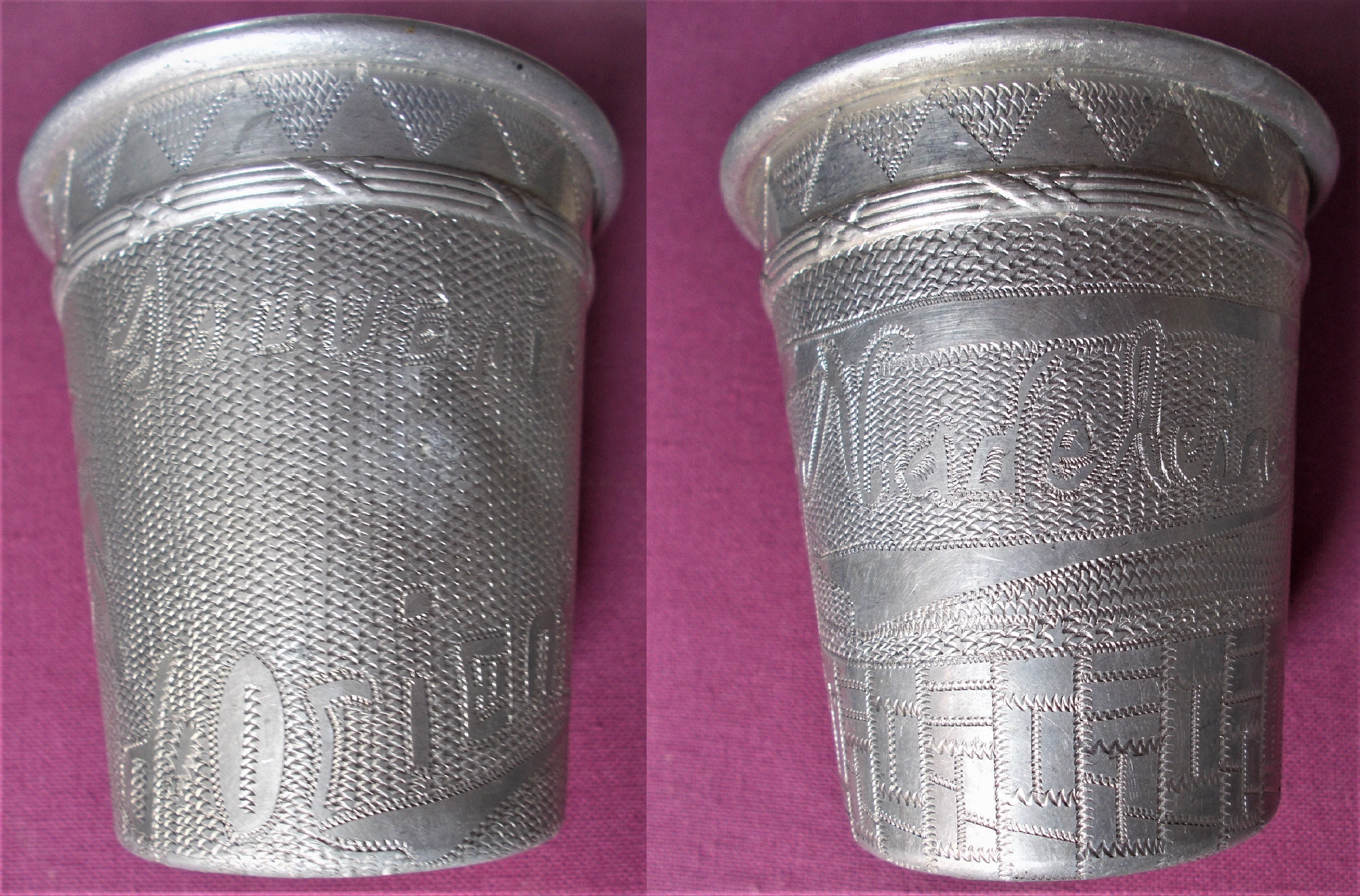 Objects personalised in Prisoner-of-War camps - possibly engraved by German Prisoners as favours for their captors, or Allied internees to remember their captivity or a message for a loved one.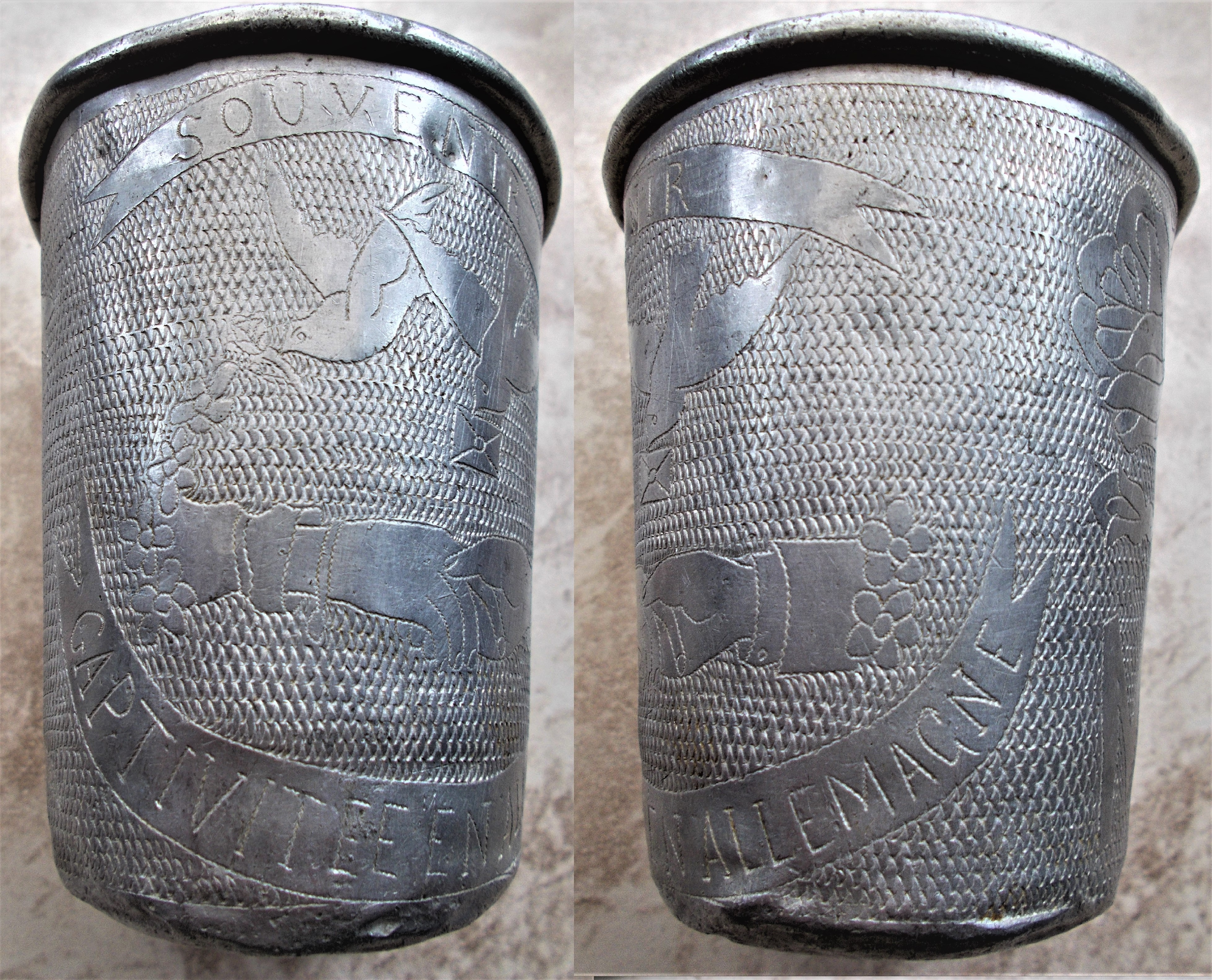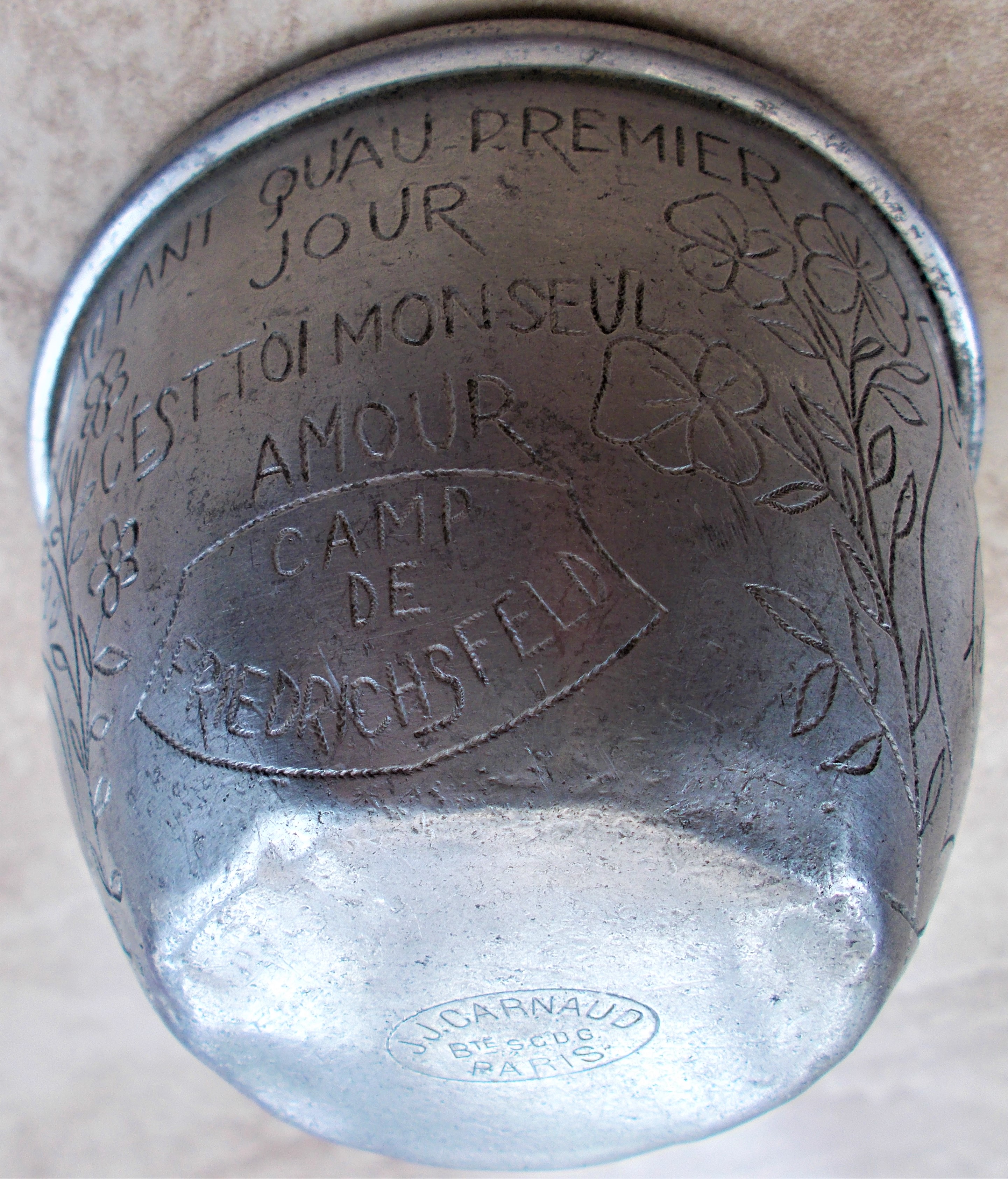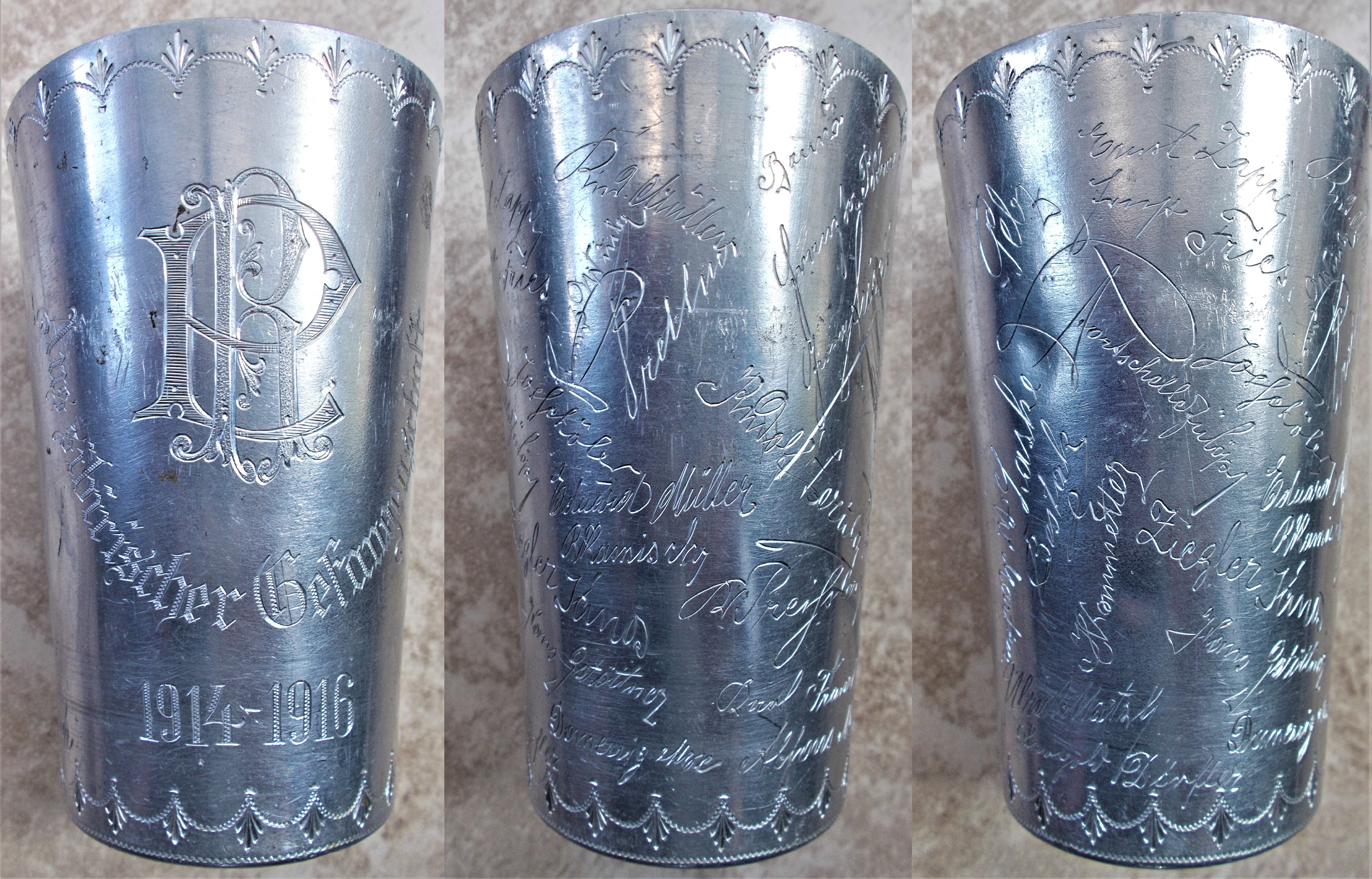 (above) engraved "Aus Sibirischer Gefangenschaft 1914 - 1916" meaning
"From Siberian Captivity" - the beaker carries the names of some prisoners

(below) Some vessels have added adornments
(a copper turning-band or brass relief bands with medallions for example)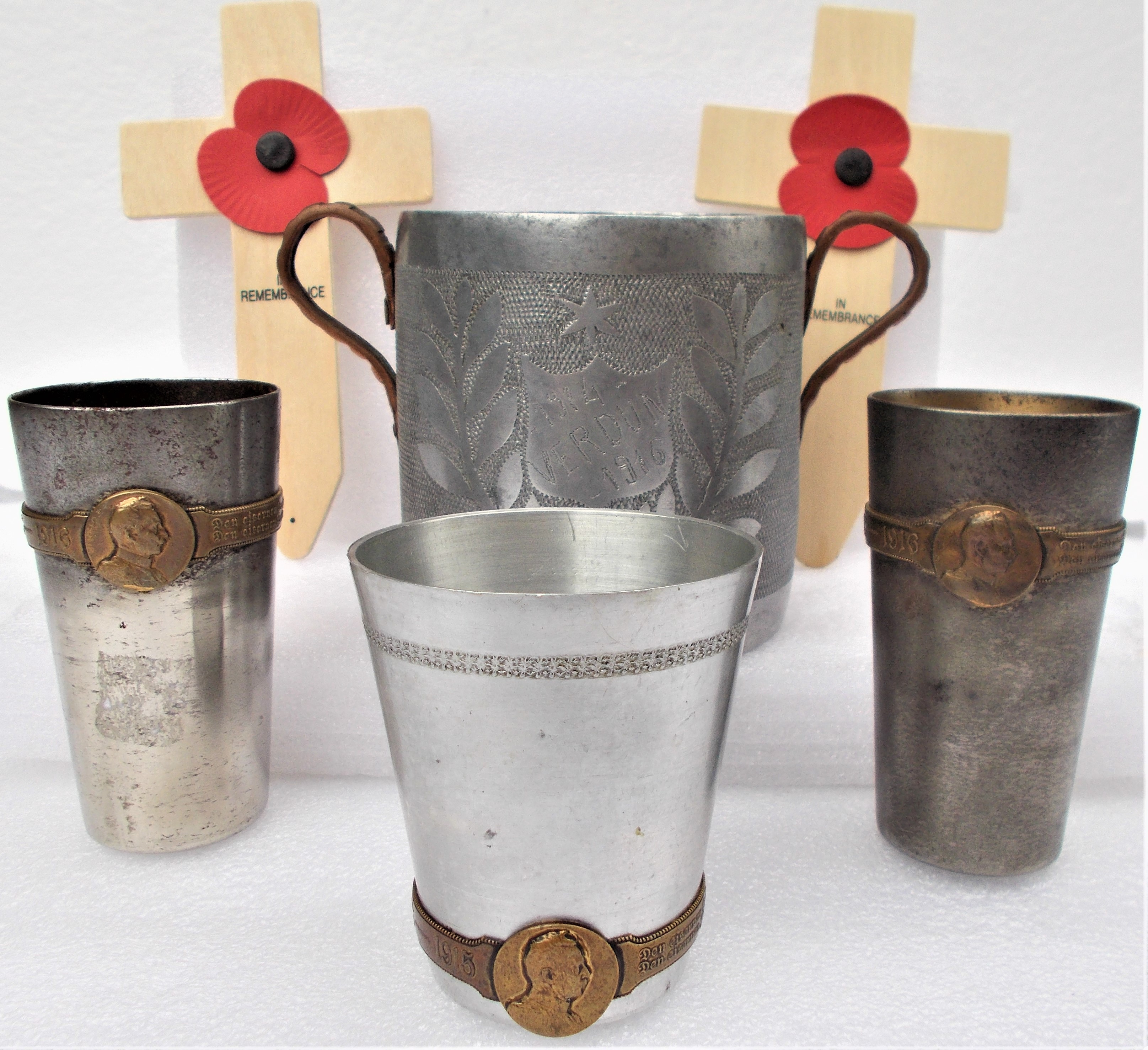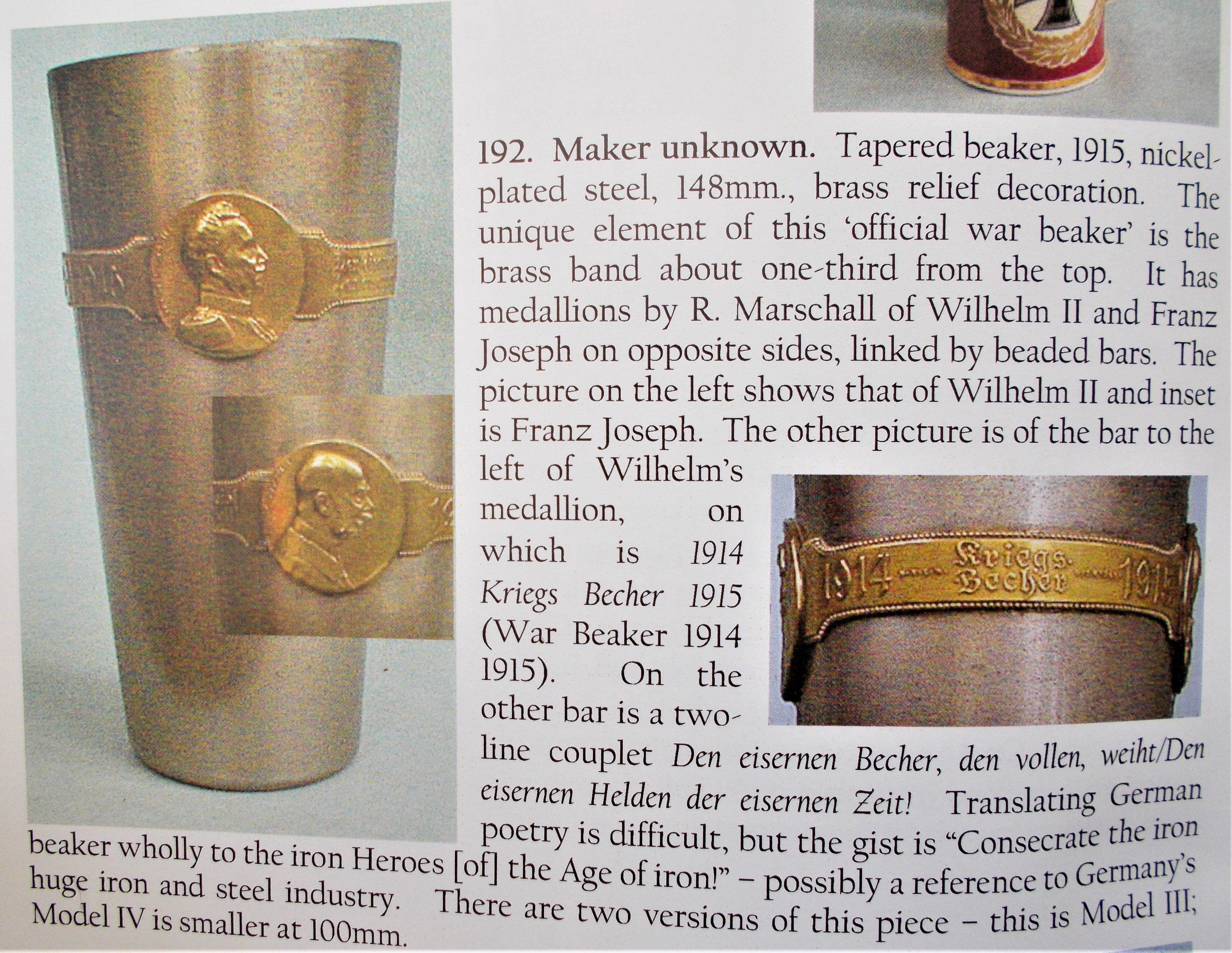 (from "Memories of Conflict" by Anthony King)