Sidney Thomas Walker Greenhill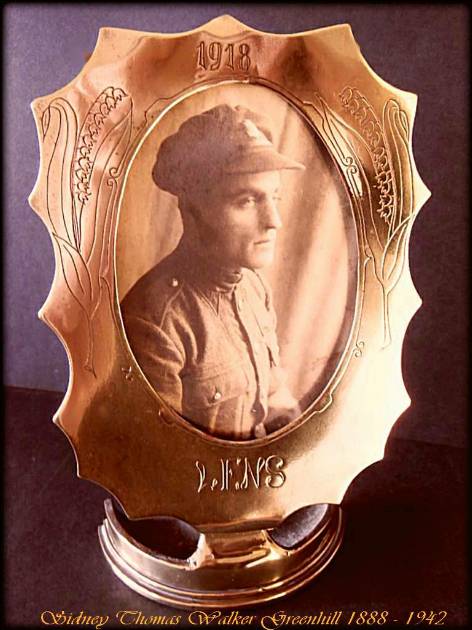 Shellcase photo frame, containing a photo of my Grandfather
Sidney Thomas Walker Greenhill (1888 - 1942)

Sidney enlisted for Army Service in London, on 29 August 1914, aged 26.

Army Form B. 2079 shows his name as: STK 415 Pte Sidney Walter Thomas Greenhill. (Although incorrect, his Brother was Walter !)
Initially, he was a groom/valet for Brigadier General Robert White,
10th Royal Fusiliers Battalion.

In October 1914 he had a 2 week training course at the Army School of Cooking in Aldershot (leaving with an exam pass mark of 97%).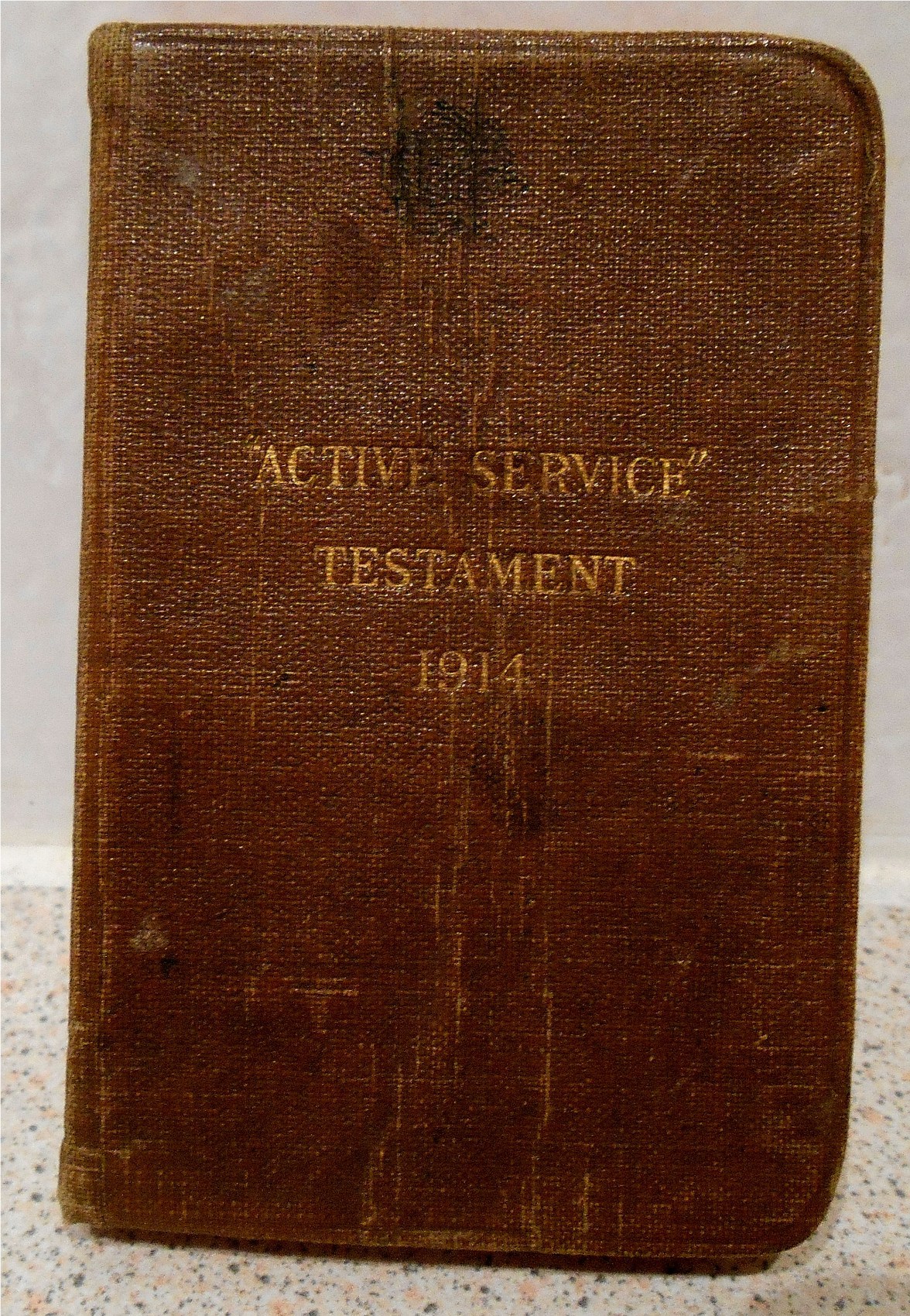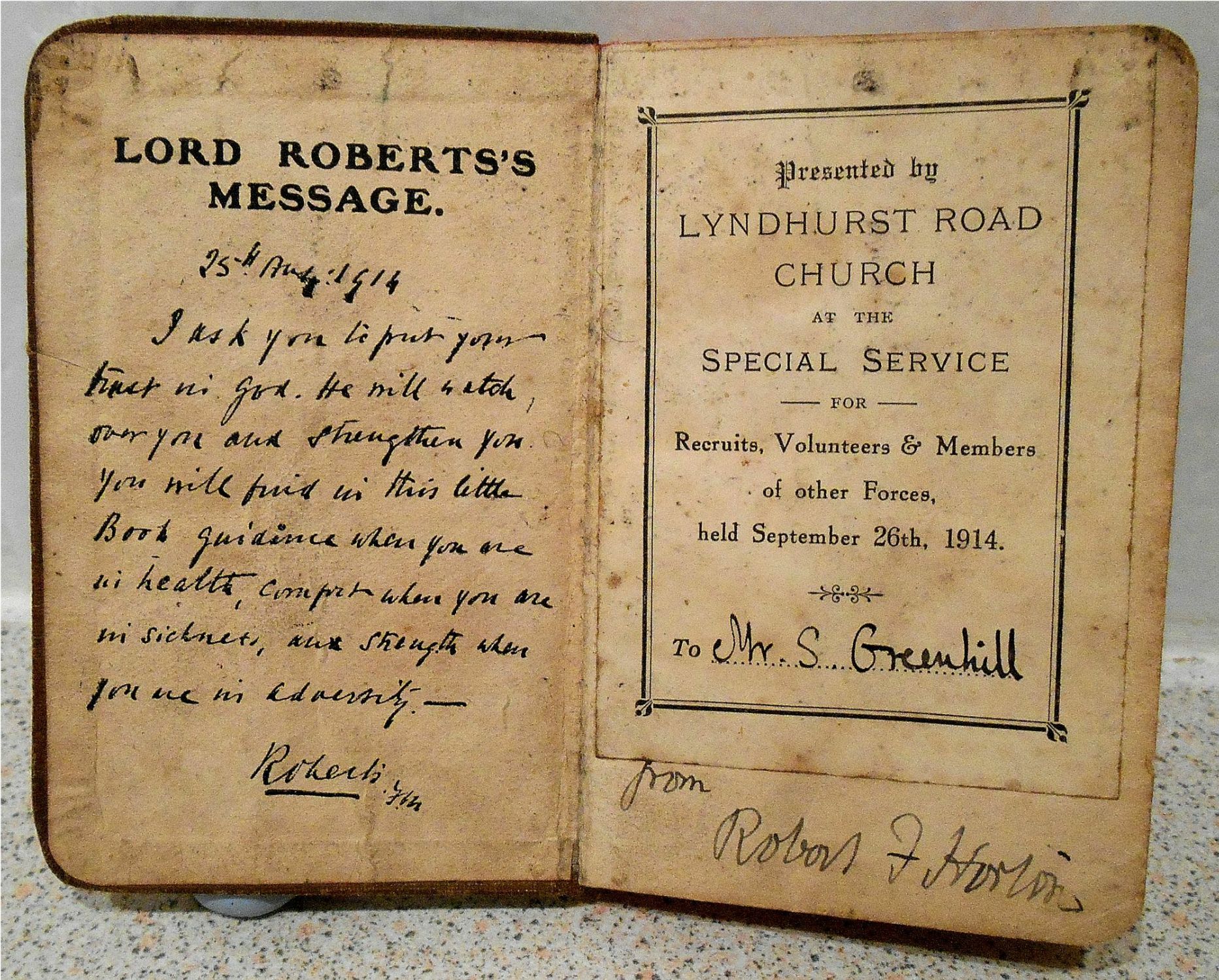 This is his Active Service Testament 1914, presented at Lyndhurst Road Congregational Church, Hampstead, London, on 26th September 1914 by Robert Forman Horton. It was dedicated for: "Recruits, Volunteers & Members of other Forces."
Inside, is Lord Roberts's message, dated
25th Aug 1914 (Frederick Sleigh Roberts, 1st Earl Roberts)
" I ask you to put your trust in God. He will watch over you and strengthen you. You will find in this little Book guidance when you are in health, comfort when you are in sickness, and strength when you are in adversity - Roberts"

In July 1915 he was sent to Arras, France, serving in the Regimental Transport Division under Major Raymond Boileau.

After only eight weeks in the trenches, Sidney was injured when a shelled dug-out collapsed on him, resulting in spinal injuries, damage to one of his hands, and subsequently shell-shock. His recovery began at the General Hospital in Etaples, France.
On 21 October 1915, he was sent back to "Blighty" and the Minster Auxiliary Hospital near Ramsgate, Kent..........
From there, he was transferred to the Central Military Hopital, Shorncliffe, near Folkestone, Kent (later named No. 9 Canadian General Hospital) in December 1915 then discharged for ten days' leave on Christmas Eve.
After a positive Medical Examination on 7 January 1916, Sidney was appointed as temporary 2nd Lieutenant to the 13th Sherwood Foresters (Notts & Derbyshire Regiment). On 16 January 1916, and as part of the Young Officers Company, he was sent on an Officers Training Course at Keeble College, Oxford University O.T.C. completing their training courses very successfully.

Looking forward to this new commission, and feeling sufficiently recovered, he underwent a routine medical examination in March 1916.
To his disbelief, the results concluded that the effects of battle in France would curtail his effectiveness in enacting Officer duties - he was ruled "permanently unfit", and required to relinquish his commission.

Feeling unfairly judged, he lodged a claim for compensation. Subsequent medicals concluded he was still suffering from shell-shock, neurasthenia and lateral curvature of the spine (20 March 1917). He was awarded a gratuity of £100 by the War Office
(approximately worth £5,000 in to-days's currency valuation):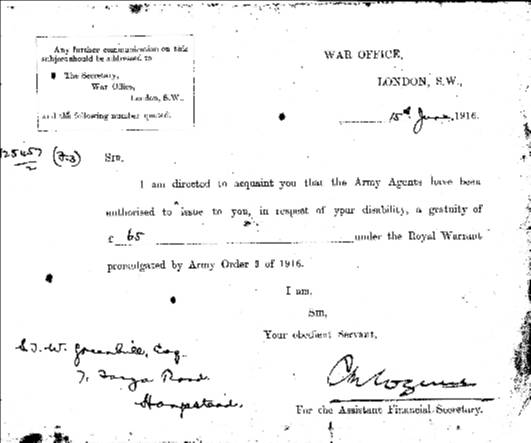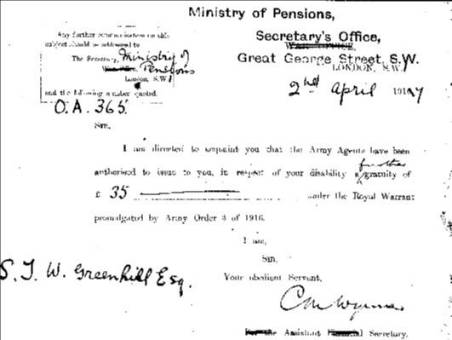 Despite having glowing employment references from Superiors to assist him applying for positions in the Regimental Transport Division, Sidney went for an interview on 28 November 1917 at the Air Board Office for re-appointment to a temporary commission with the Royal Naval Air Service (RNAS). On 24 December 1917 the War office advised him he needed to be examined by a medical board and that he should contact the Headquarters, London District, Horse Guards, for further instructions....

It seems Sidney believed there would be no point in undergoing more Army medical tests and abandoned further applications.

Aged 32, he travelled to Denmark, where he met and fell in love with my Grandmother. They married on 15th July 1920 in England, much to the displeasure of her Danish Father and Brothers.

Sidney engaged in various enterprises to make a living, such as owning a high street shop with my Grandmother, to support new arrivals, my Aunt, born 28 January 1922, and my Mother, born 21 March 1927.

When World War II began, Sidney was involved with the National Council of Young Men's Christian Associations, and in April 1940 returned to France aged 52, to a hospital there, helping and aiding the YMCA in treating and supporting injured troops returning to England.

In August of that year, he came home and brought his wife and family to Fort Crosby, Merseyside, where Sidney was Branch Secretary and Canteen Superintendent for the YMCA. (In the Spring of 1940 The Bishop of Liverpool dedicated Fort Crosby YMCA for the ATS (Auxiliary Territorial Service) and an experimental amalgamation with the YWCA (Young Womens Christian Association).

My Grandmother, Mother, and Aunt, both served here and elsewhere with the subsequent WRVS (Womens Royal Voluntary Service) for the remainder of WW2. The camp hut was destroyed by a drifting parachute German incendary device, dropped targetting Liverpool, on Friday June 13th 1941. My Family lost every single possession in the fire, including a much loved three-legged cat and some budgerigars which were not caged. Two pet dogs survived ! Lives had to be re-built, from scratch...

Sadly, my Grandfather did not live to see the end of the war as he had developed lung cancer in 1942 - he passed away in Blackpool, Lancashire, having moved North after the 1941 fire.
His WW1 medals - now in my keeping: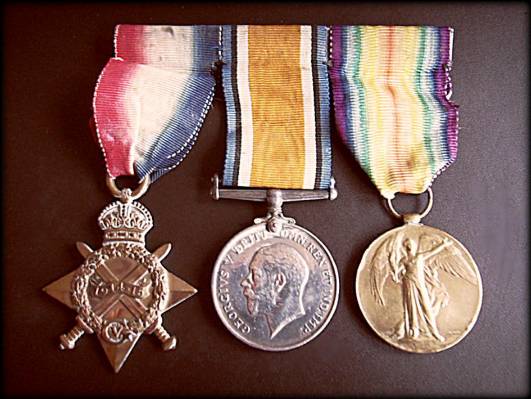 1914 - 1915 Star British War Medal Victory Medal


​​​​​​​