"Silks"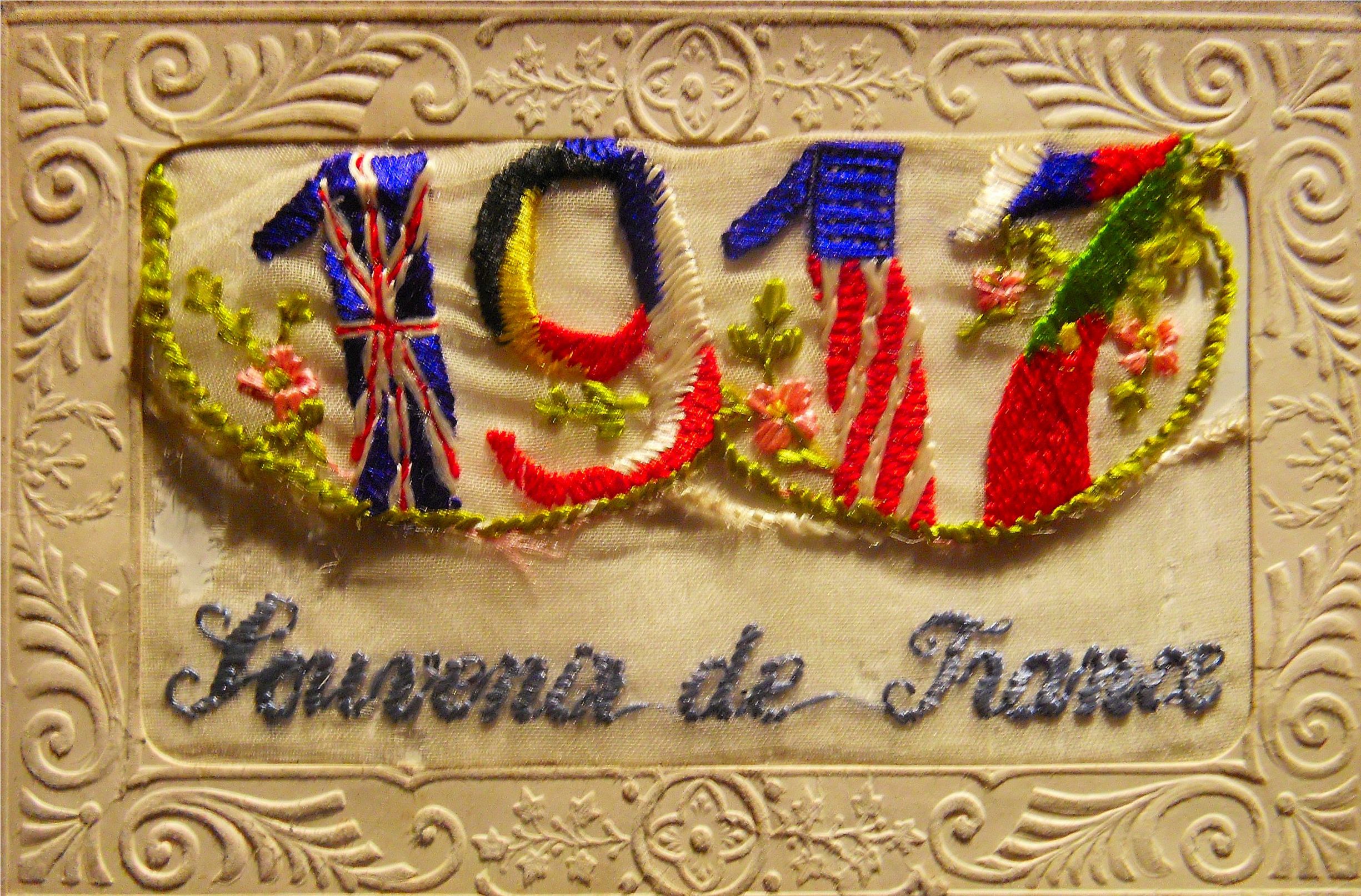 Novelty postcards crafted from card and silk first appeared around 1898, originating from France and Switzerland. In 1903, Thomas Stevens and William Grant began an English manfacturing process.

Prior to War, convents around the soon-to-be invaded areas of Belgium and Northern France had been accustomed to embroidering church vestments, alongside commercial articles for sale to visitors, to financially support their ministry for God. The advent of war opened a new source of revenue for the nuns, to support their work.
After 1915, a passion developed from men away from home, to acquire a "souvenir" of their war involvement, and the convent nuns satisfied this, by organising refugee workers to embroider complex, yet affordable, war-themed souvenir "memory" items.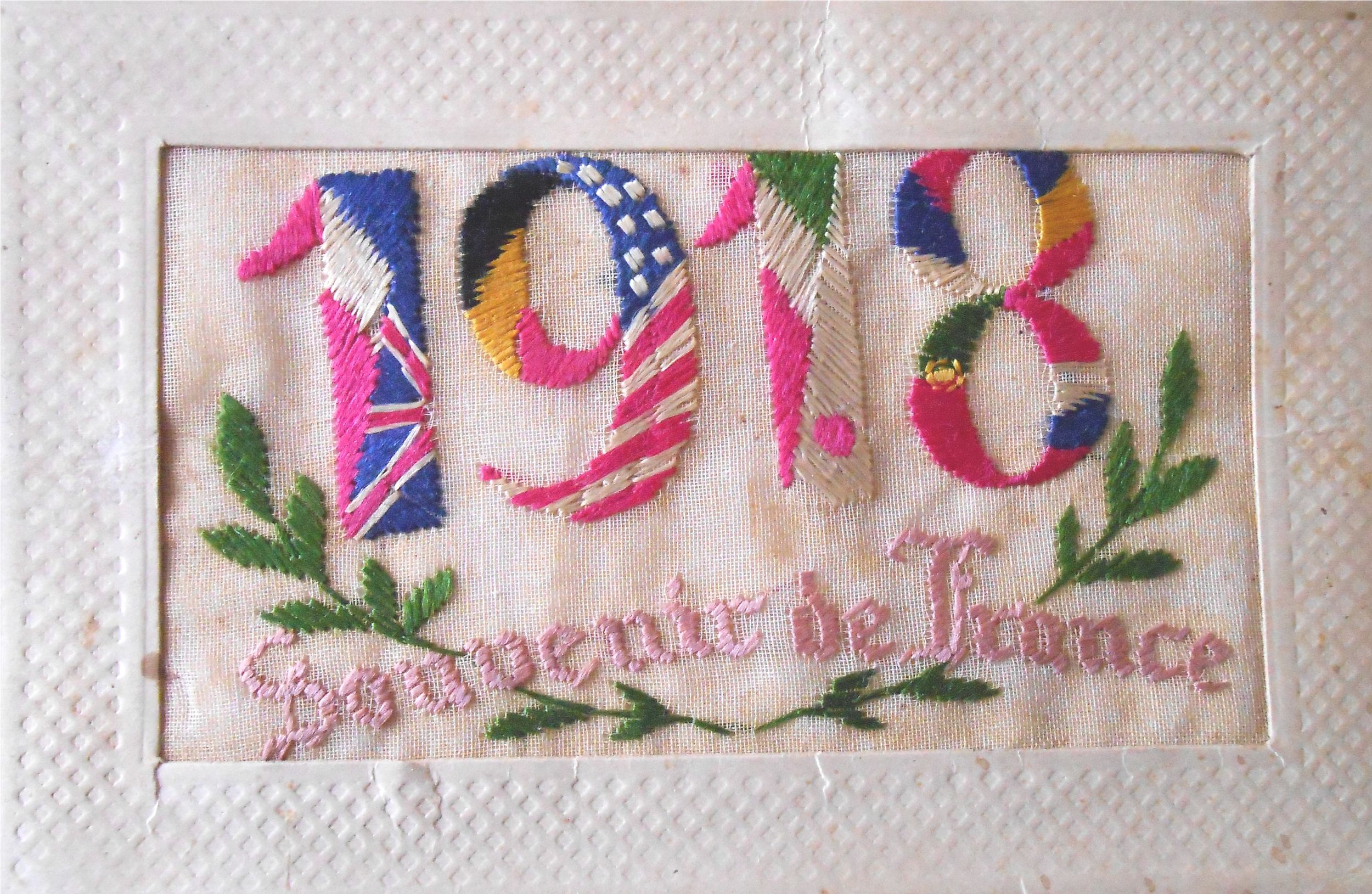 Women and girls of France and Belgium began hand embroidering the flags of Britain and France on scraps of silk mesh, using home sewing equipment.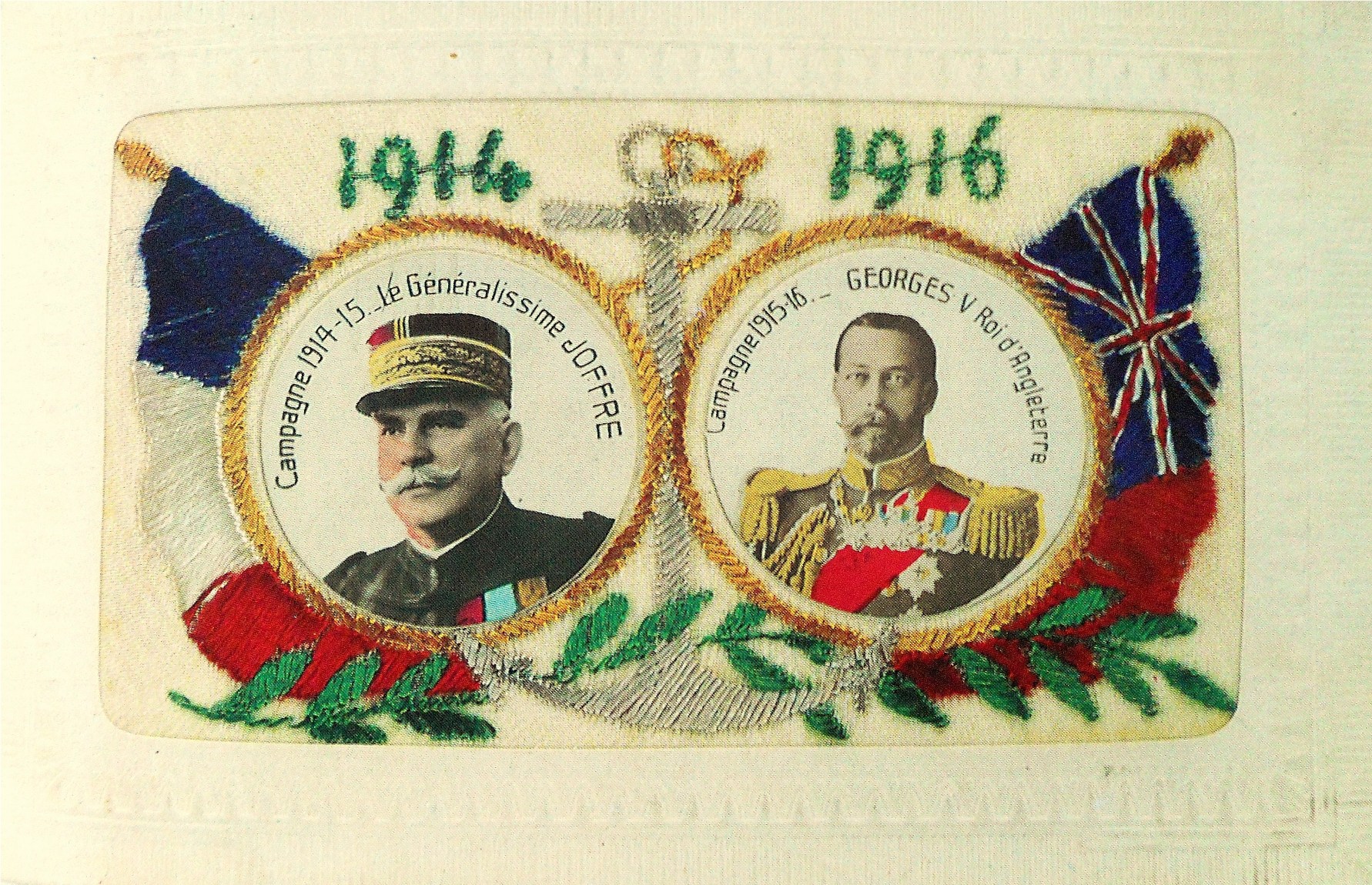 Identical designs were embroidered with coloured silk onto a starched strip/roll of silk/organdie, usually 25 times, although some rolls have been discovered with 400 such designs, each separately worked !
Once embroidered, they were sent to "finishing factories" for mass cutting/mounting onto card backing. An embossed frame was secured over the top of each card, which was finally "trimmed"/completed.
Incorprated into postcards, they became fervently popular with British soldiers billeted in foreign towns, as a way of expressing their strong feelings of love, patriotism, and occasions......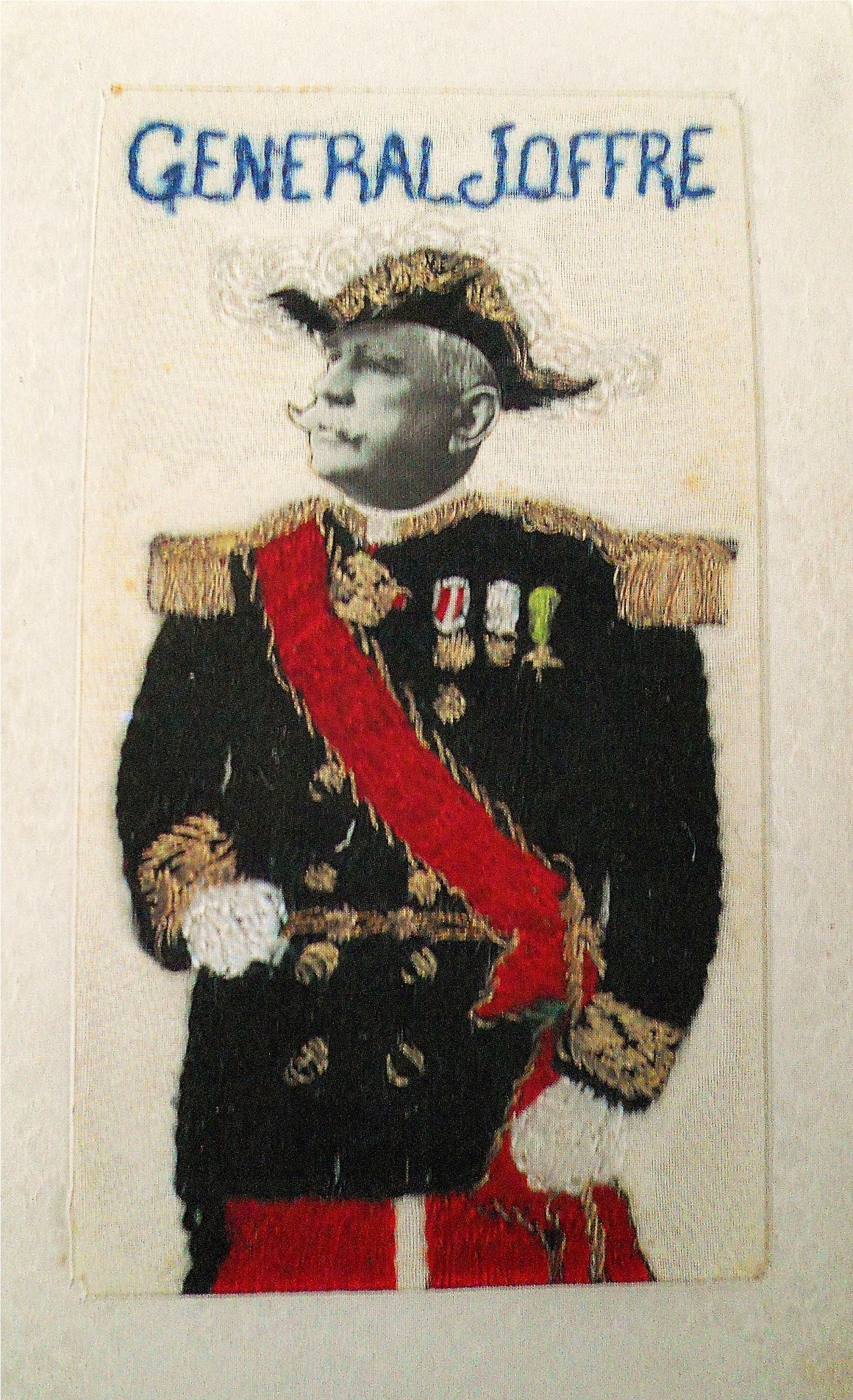 GENERAL JOFFRE
To satisfy demand, Paris workshops were set up and employed assembly line style workers to mass produce cards....
They were rarely posted in the open mail, but sent home to "Blighty" via courier (once approved by an Official Censor who initialled each card) to loved ones, in brown transparent envelopes, protecting the message in transit and complying with post office regulations that they did not "inconvenience post office machinery". There were no Postage Stamps on these cards as troops were entitled to free postage.

Thousands of designs were created in basic design groups:
SENTIMENTAL
PATRIOTIC
REGIMENTAL/MILITARY SERVICES

Within these, cards may have had -
a panel design
a pocket design with a card inserted
a pocket design with silk hanky inserted
panel design with attachment such as a ribbon
panel design with photos of notable persons stuck on, amongst flags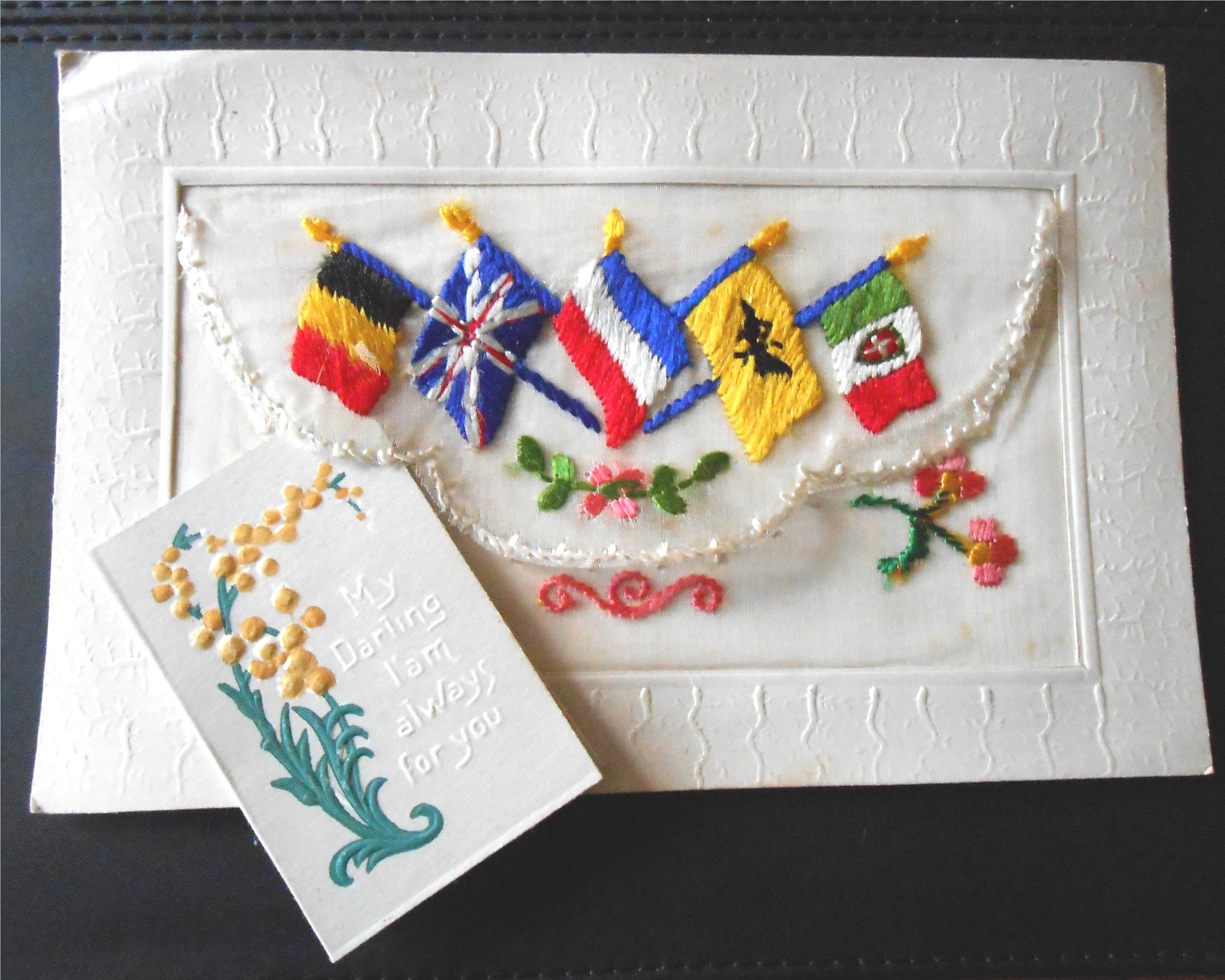 example of a pocket design with a card inserted -
the message on the front of this card reads: "My Darling I'am always for you"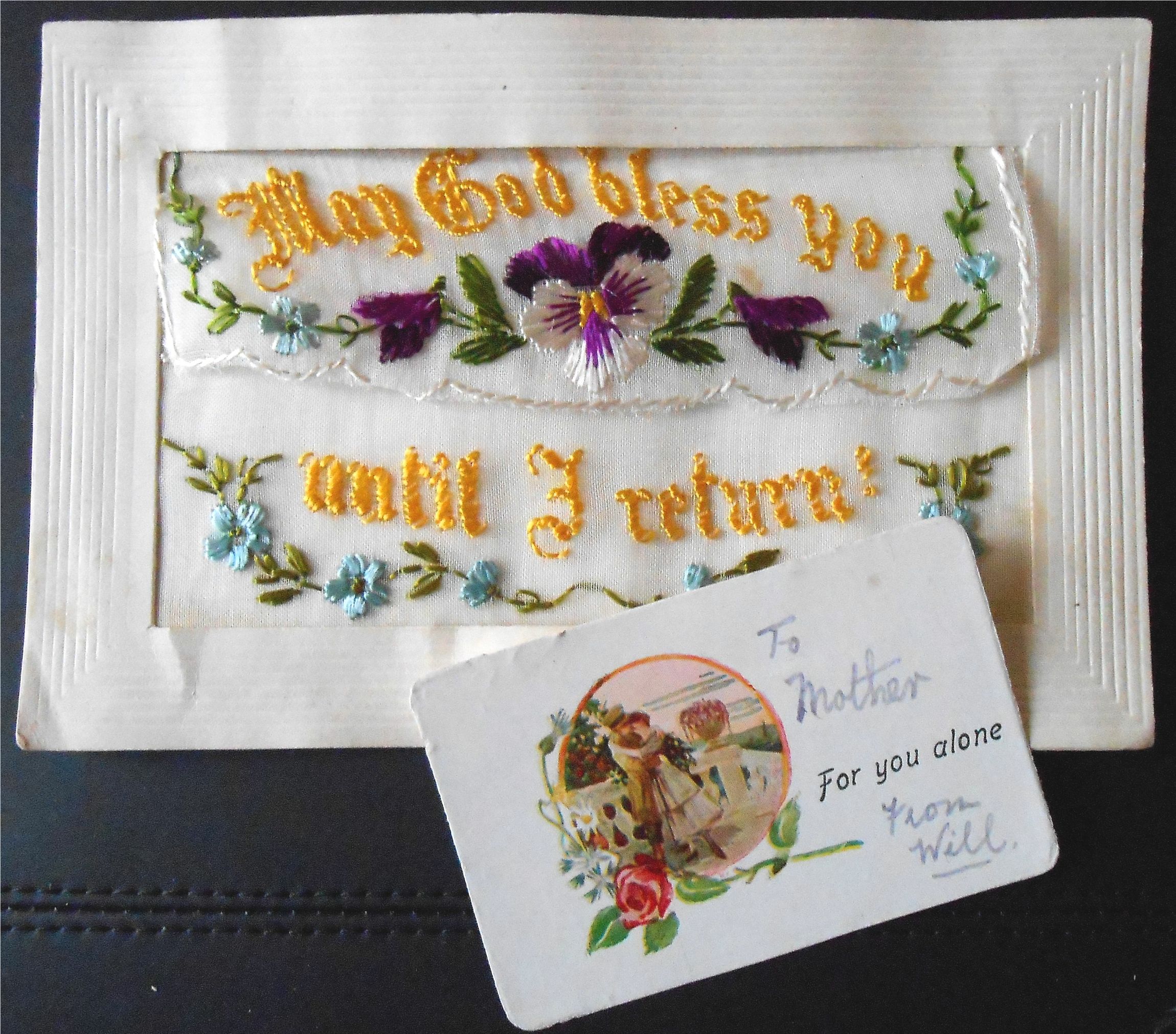 "MAY GOD BLESS YOU UNTIL I RETURN"
example of a pocket design with card inserted -
the message on the front of this card reads: "For you alone" and is written: "To Mother from Will"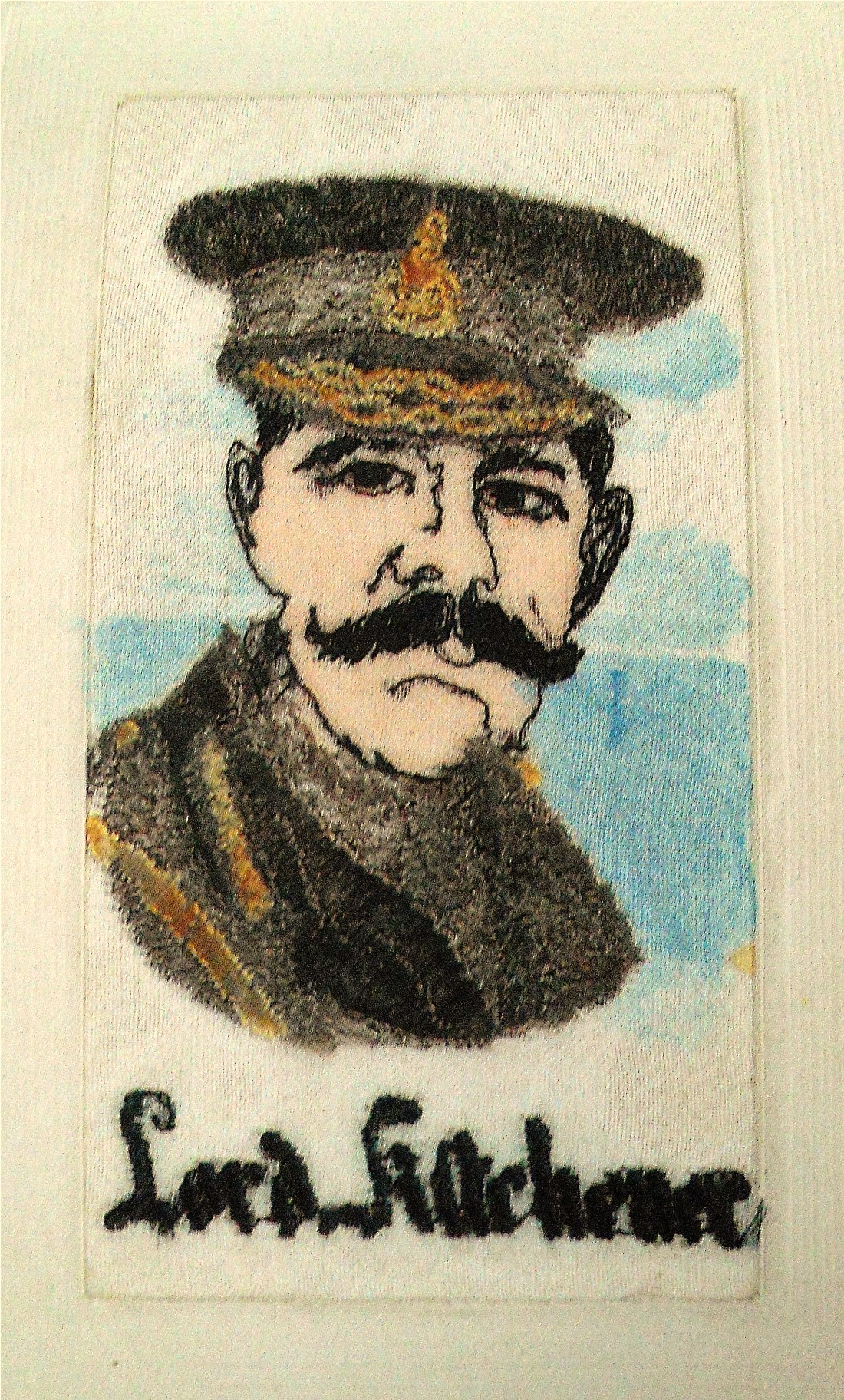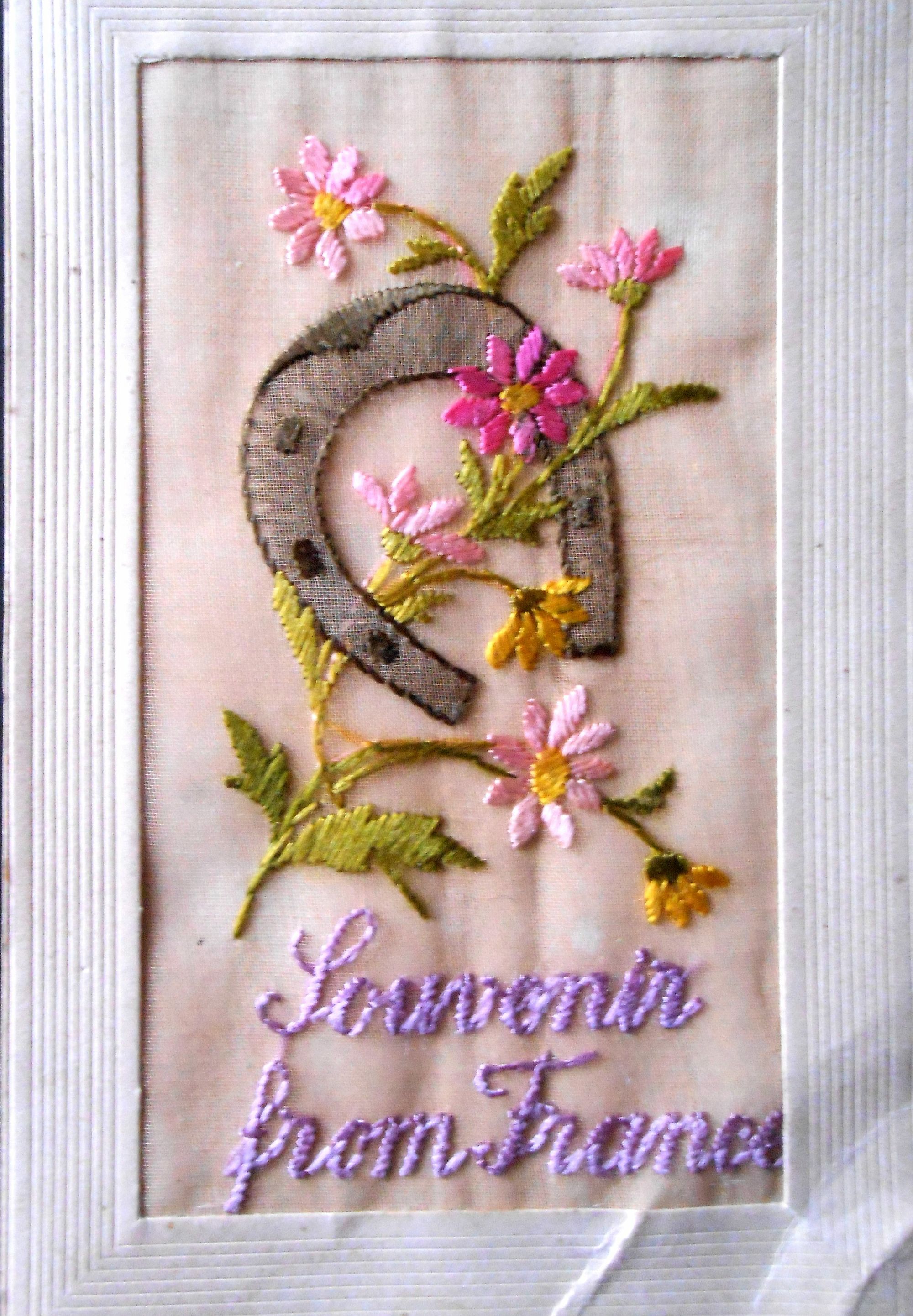 "SOUVENIR CARD" sent to "Miss Margaret Erfman" in Indiana, USA:
"From your Friend Louis Stohlman, Batt. C53 Art Amer E. F, France"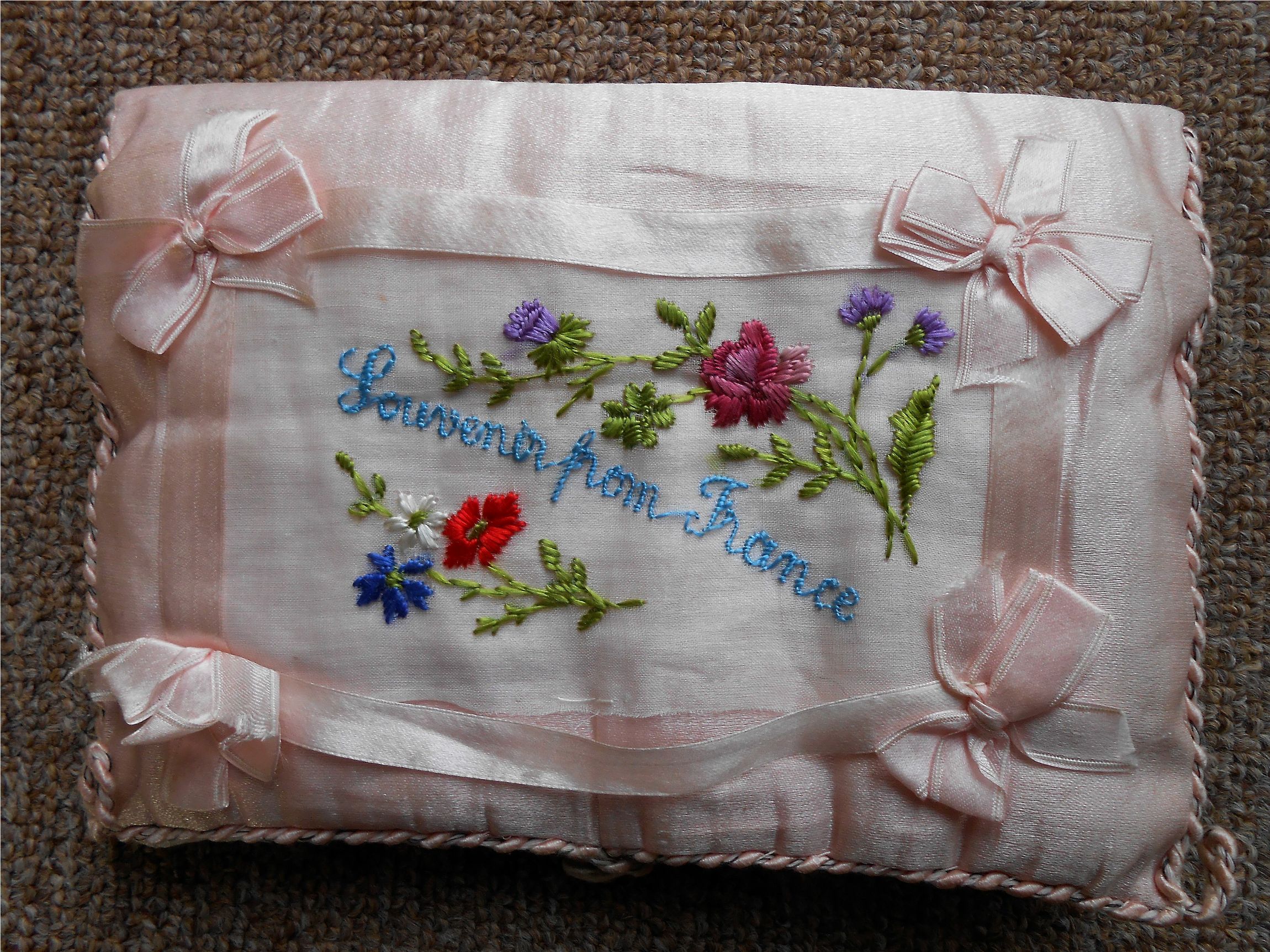 Rare item - this "silk" has been sewn into a handkerchief holder for a Lady - "Souvenir from France"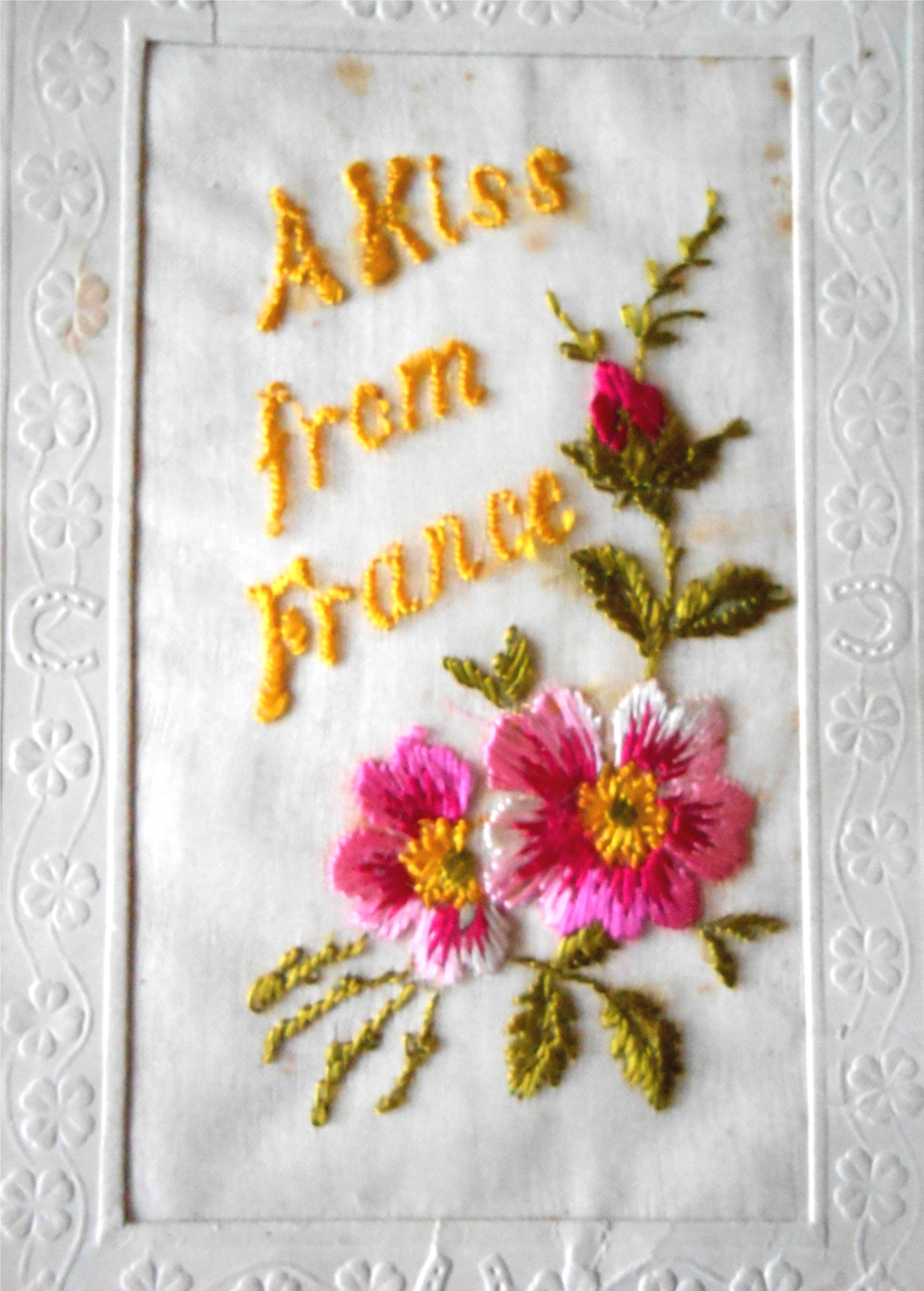 To: "Miss N. Pacey, 10 Park Street, Bletchley, England":
"Dear Norah, just a card from France in answer to your loving letter which I was so pleased to get and thank you very much, give my love to your Father & Mother & dear old Beat & I hope I shall see you all again some day, ever your loving uncle, C W Burt"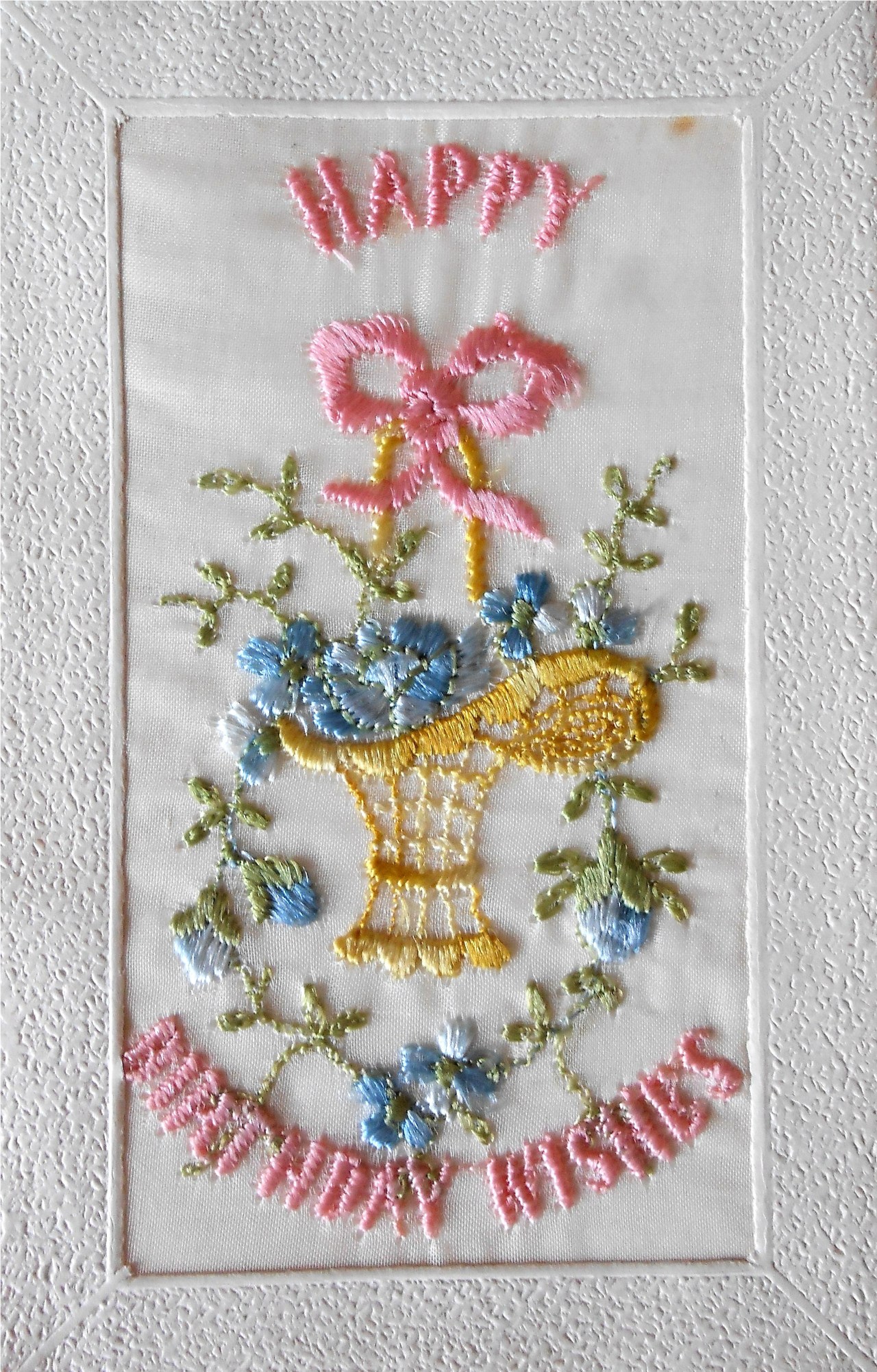 To: "Miss G. Firth, Wood Willows, Stocksbridge, Nr Sheffield, England" -
"With Best and fondest love to Gladys From Harry Somewhere in France xxxxxxxxxxxxxxx"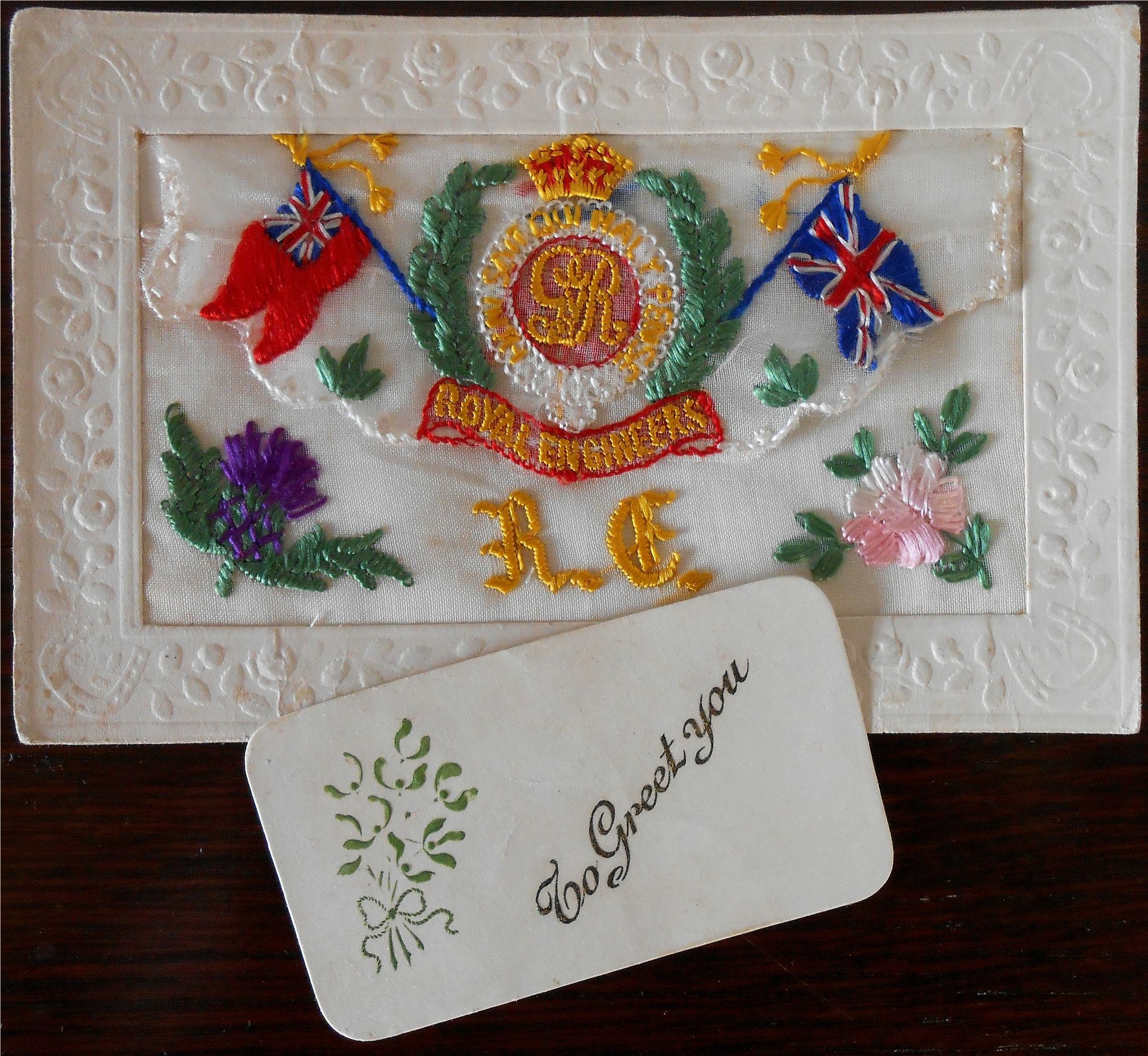 A "REGIMENTAL SERVICES" card - displaying the Royal Engineers emblem & initials "R.E.",
with an insert card with the message: "To Greet you"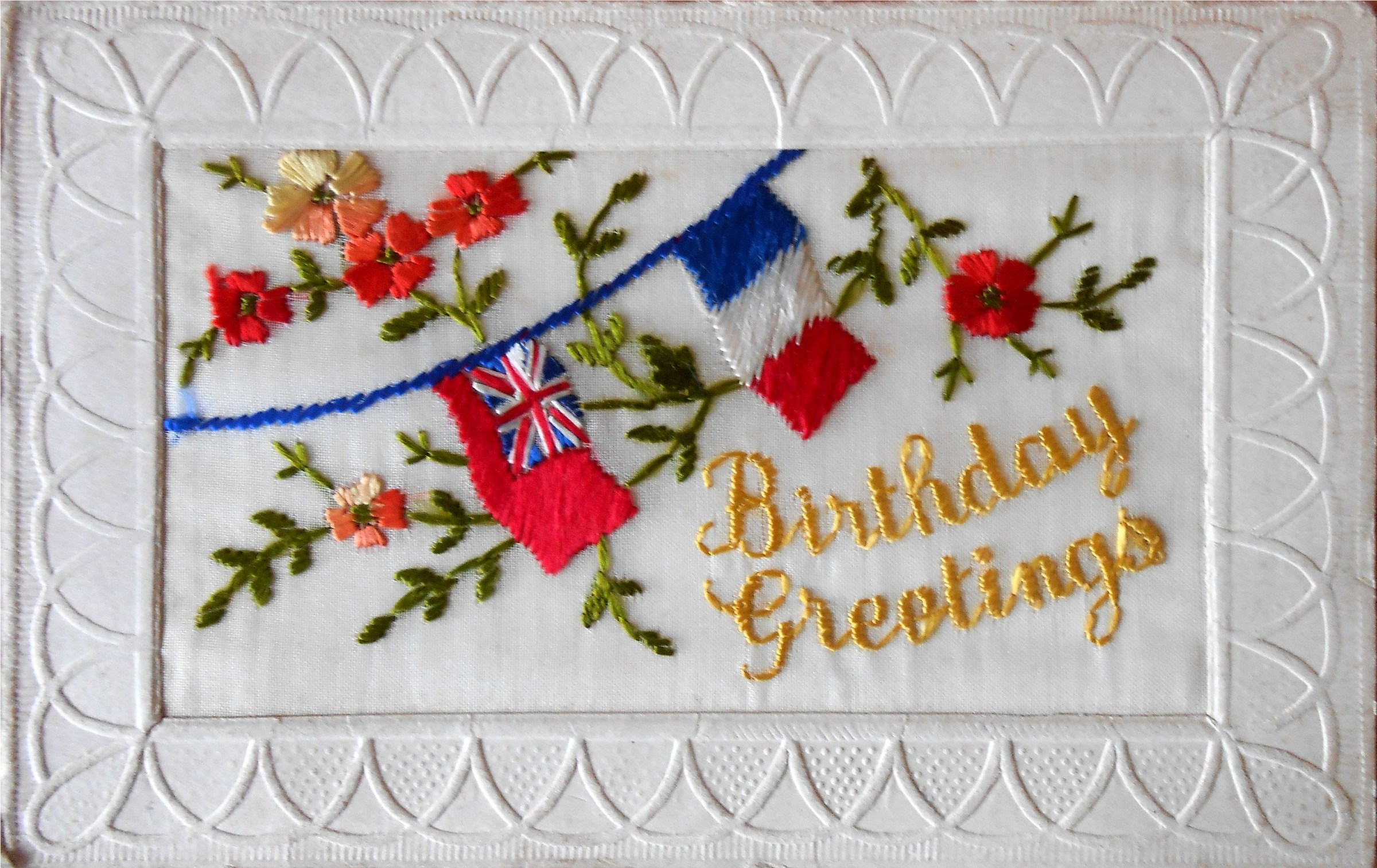 A "BIRTHDAY CARD" with a message:
"Dear Charlie, wishing you many happy returns of the day From a Friend B. Fp"