ZEPPELIN L33 "SOUVENIRS"

Having purchased this letter opener in a Boot Fair, I needed to know its provenance, so decided to research the L33 history....
it is engraved "Zepp L33 Sept 1916 Colchester" - so follows the story.....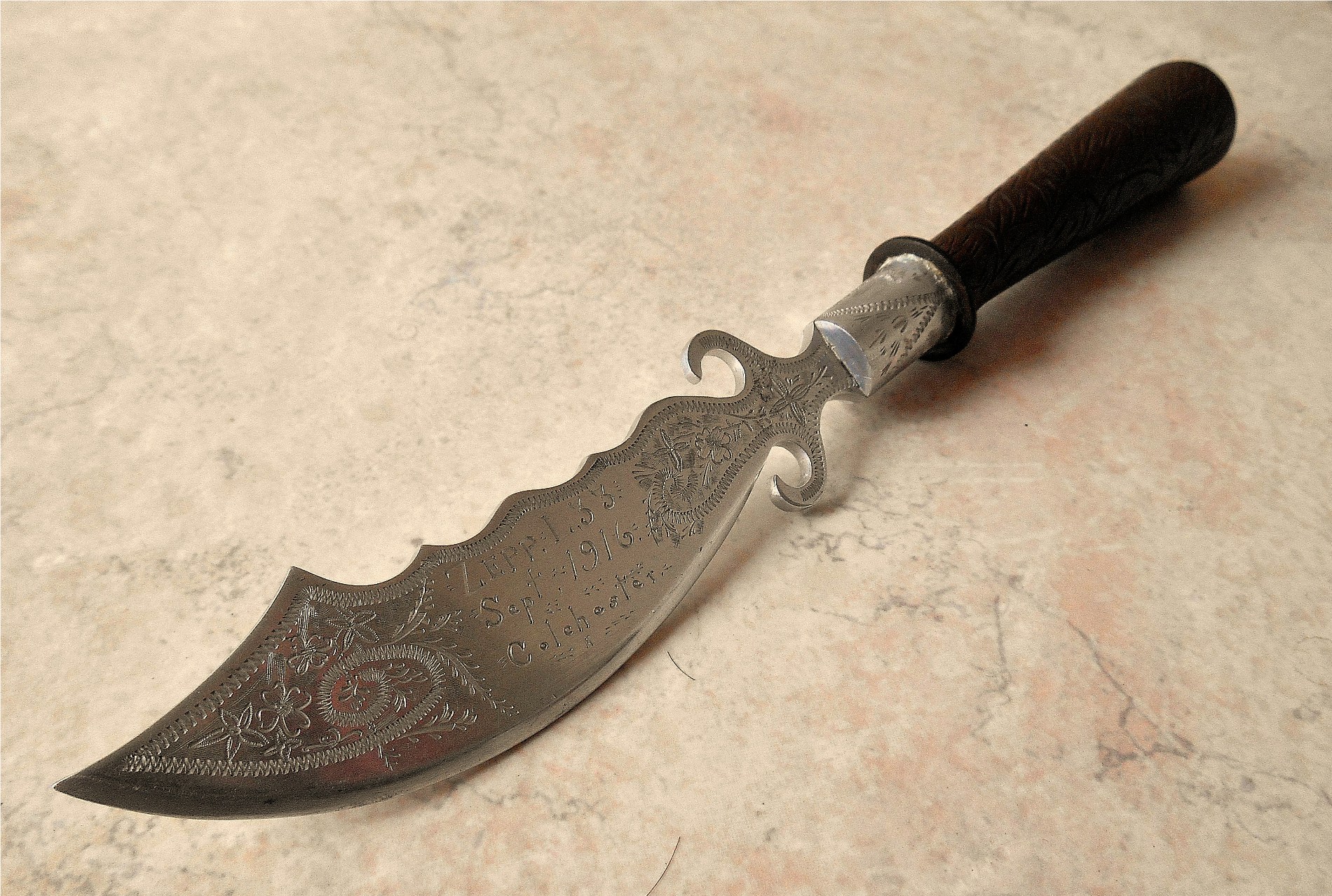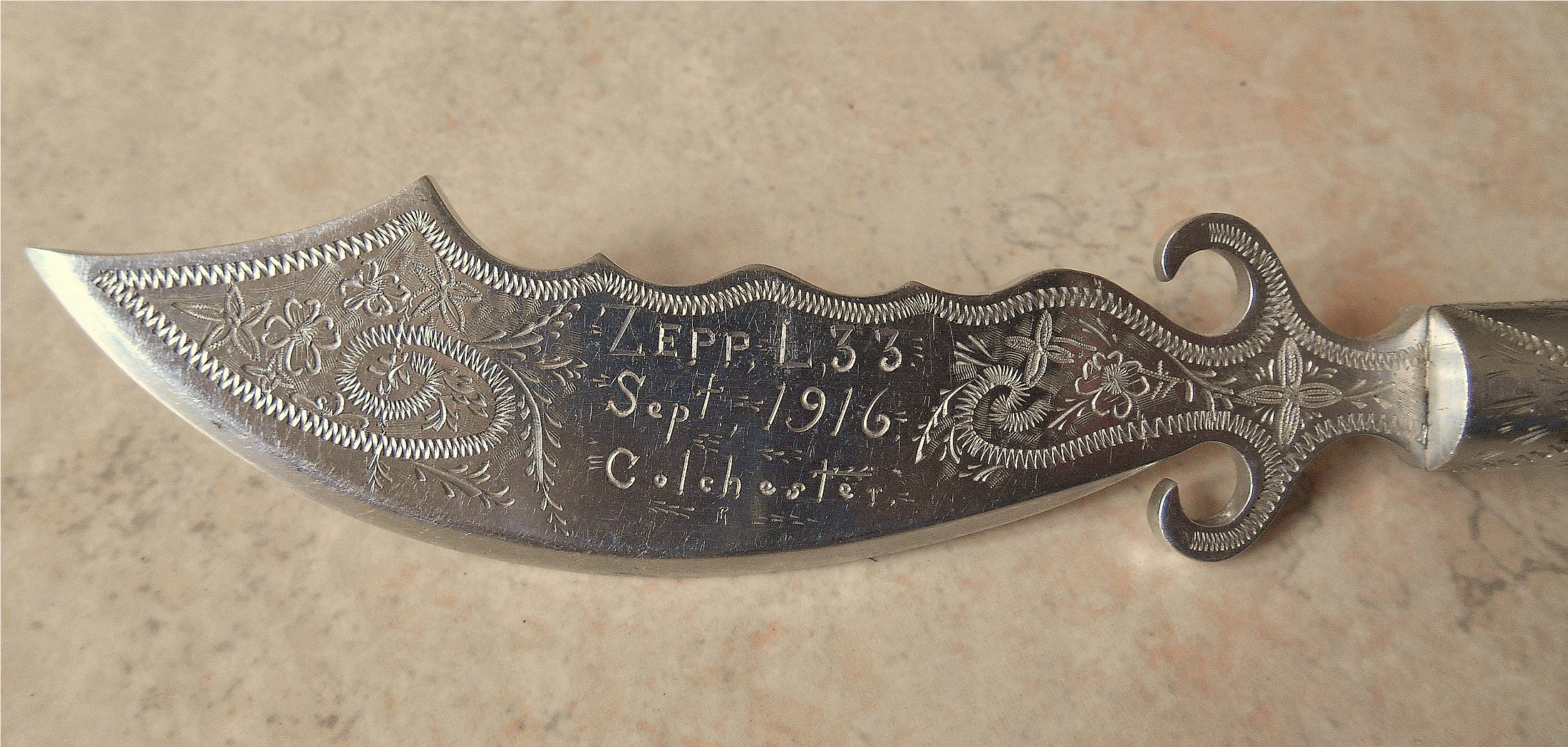 L33 was a massive dirigible, 196.5m long x 23.9m diameter, with a total gas capacity of 1,949,000 cubic feet. Six powerful Maybach 240hp Hslu engines gave the lumbering giant a top speed of 59 mph at a maximum operational ceiling of 13,500 feet. Beside its sheer size, what separated the L33 from its predecessors was its bomb load capacity. An impressive five tons of ordinance could be carried.




Image of the L33

The third raiding period during the 1916 Zeppelin offensive began when 12 navy airships headed for England, late in the afternoon of September 23rd. The ships, were led by Heinrich Mathy in the L31, and flew over the southern English coast.

This route assured a strong tail-wind and speedy flight past the most dangerous anti-aircraft areas over London. Smaller Navy ships L13, L14, L16, L17, L21, L22 and L23 took the direct route to the Midlands.

The Commander of L33, Kapitänleutnant der Reserve Alois Böcker, arrived over London's East End, dropping devastating bombs onto Bromley-by-Bow, Bow and Stratford. These fired a lumber yard, oil depository, then demolished a row of houses, killing six people, injuring another twelve. The "Black Swan" public house was destroyed, killing four of its unsuspecting patrons !

Its mission accomplished, and turning back, a defensive shell fired from the British defence guns at Bromley, Kent, exploded inside the L33, with fatal consequences.

L33's crew dropped much of the water ballast, (reported by ground spotters as a "smoke screen") then drifted East, losing 800 feet of altitude each minute.

An airborne RFC pilot, 2nd Lt Alfred de Bath Brandon, MC., had previously shadowed the airship and decided to attack his enemy with several drums of Brock-Pomeroy ammunition - but no effective contact resulted......
Despite the shell burst squarely inside one of the hydrogen cells, for some inexplicable reason, the gas did not catch fire, but merely escaped allowing the damaged L33 to land intact in Knapp's Field and Five Acre Glebe Field, near New Hall Farm cottages and Peldon / Little Wigborough Church), north of Mersea Island, Essex.

Alois Böcker's duty was to destroy the airship so she would not fall into enemy hands. His crew knocked on the doors of local homes and cottages to warn the families of his intention to destroy the dirigible. They then ignited the ship's sensitive documents by making a puddle of gasoline inside the control gondola, and firing a flare into it. They also set fire to the hydrogen in one of the punctured gas cells. Normally it would have exploded violently and set fire to the rest of the ship, but the gas hissed upward in a bright jet that rapidly diminished, and went out. Having no more flares or matches, they left the scene to avoid capture by the Home Guard.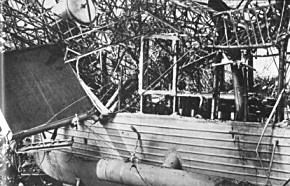 (above) L33's damaged gondola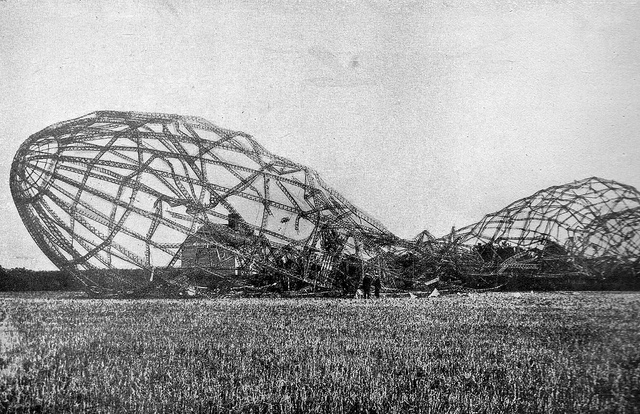 The group marched down a lane towards Peldon, hoping to find public docks, and commandeer a boat to make their escape by sea. At dawn, riding his bicycle in the opposite direction, Special Constable Edgar Nicholas was surprised by the sudden appearance of a body of men marching along a lane at that hour of the morning. He dismounted, and flashlight in hand, asked Böcker where he was going.

Böcker in perfect English said "We are on a special mission - can you tell me how to get to the docks ?" Then he asked him how many miles it was to Colchester. Nicholas replied, "About six". He was thanked by Böcker, and Nicholas, in his subsequent report on the incident, stated that he at once recognised a foreign accent. The Germans continued their march, followed by Nicholas. As they approached Peldon they were joined by Special Constable Elijah Taylor and Sergeant Ernest Edwards from Hatfield Board Oak, who was enjoying a few days rest in the area.

The policemen considered their next move and eventually decided to escort the Germans to Peldon Post Office where they found the local Constable, PC 354 Charles Smith, who was busy trying to contact the military garrison at Colchester.
PC Smith formally arrested the German crew. Böcker asked Smith if he might use the telephone but the request was politely refused and he was told to march his men towards Mersea Island so they could be handed over to the military.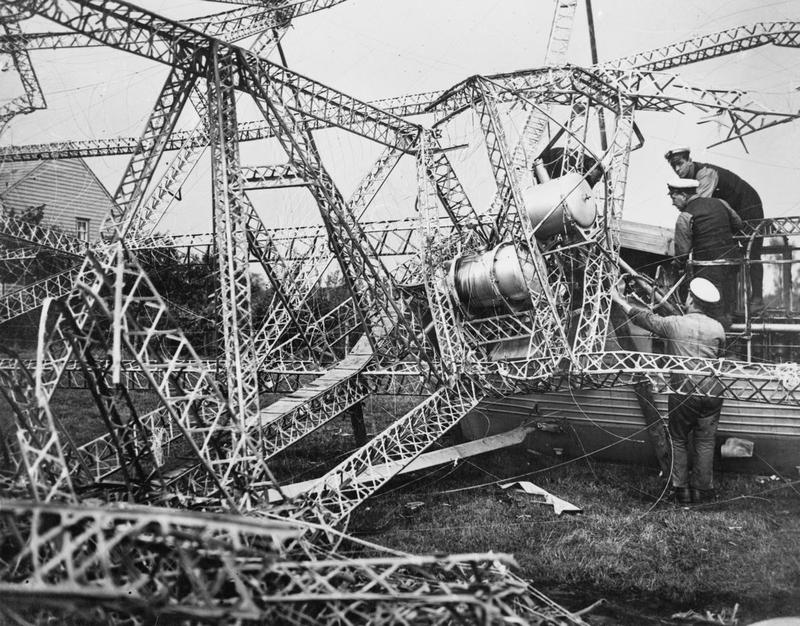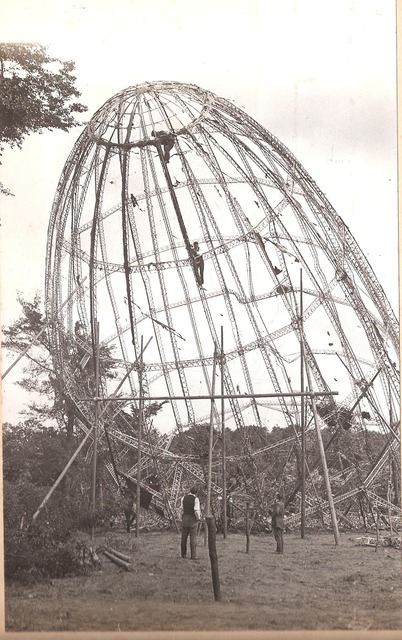 The crew were questioned extensively by British military and scientific personnel, with psychologists brought in to examine the mens' mental profiles (such was the depth of the debriefing phase !) The dirigible's debris and surviving artefacts were studied for days afterwards. Useful data was recorded - the information becoming a blueprint for the British Airship R34). Once authorities were satisfied that every piece of useful information had been collated, the remaining ship's frame was dismantled, and some remnants were recovered for research and souvenirs....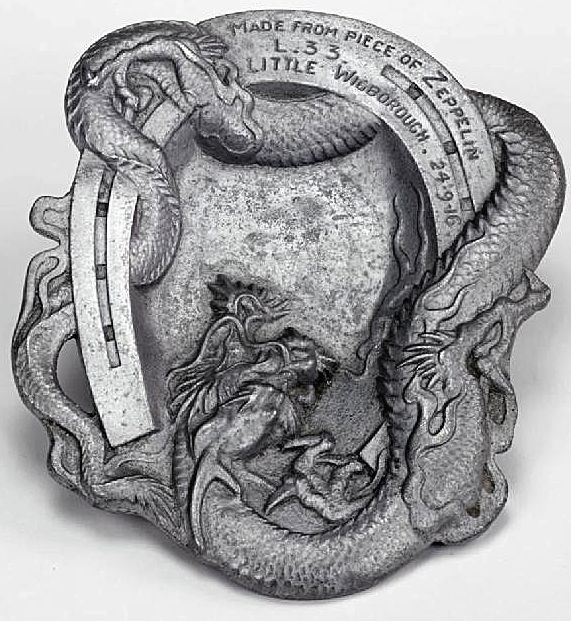 (above) ashtray made from L33 metal (courtesy, The Imperial War Museum)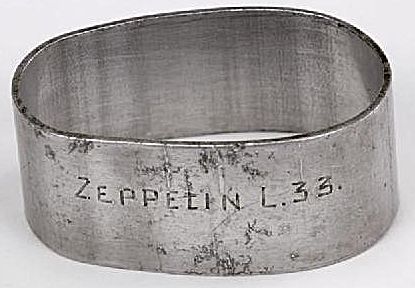 (above) napkin ring made from L33 metal (courtesy, The Imperial War Museum)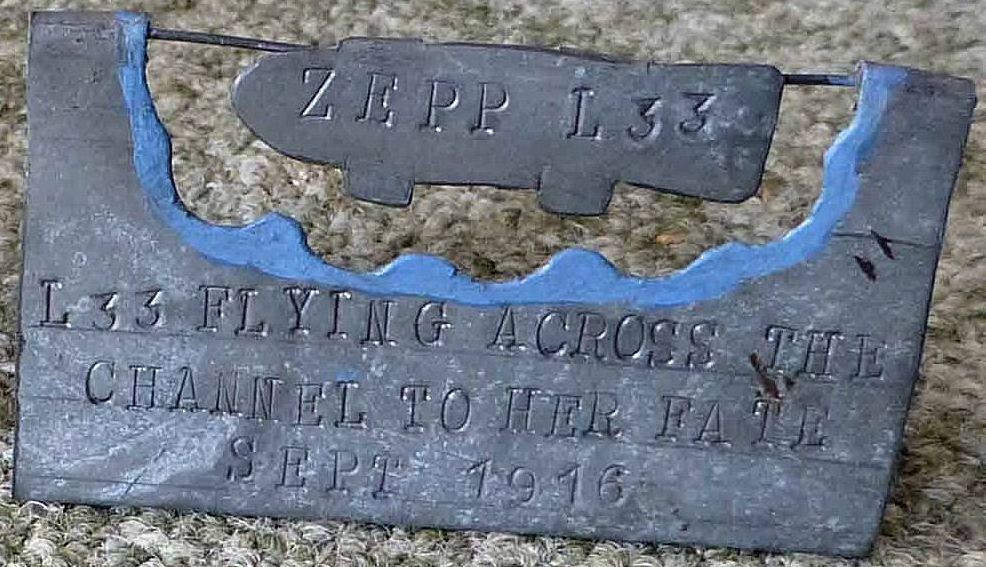 (above) souvenir plaque (image - courtesy, James Gordon-Cummings)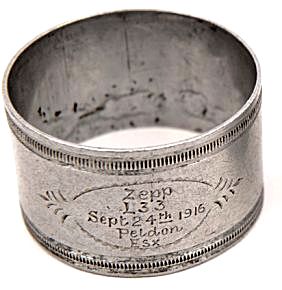 (above) napkin ring made from L33 metal





(above and below) pin-brooches (souvenir/sweetheart jewellery)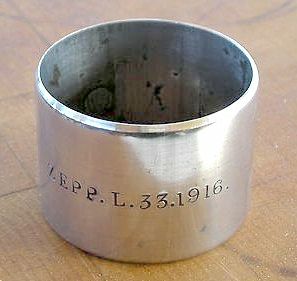 (above) napkin ring made from L33 metal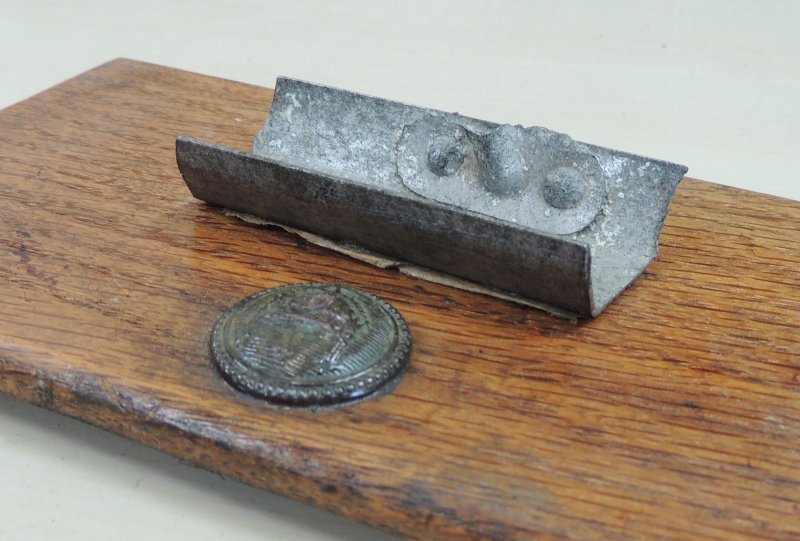 (above) Section piece, mounted on an oak plinth, with a German tunic button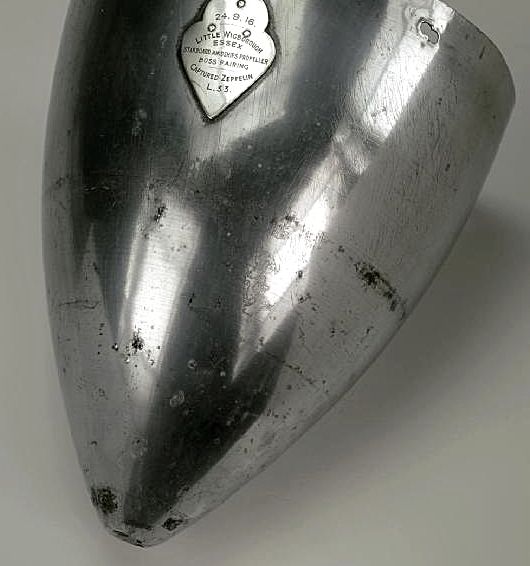 (above) propeller boss fairing (courtesy, Imperial War Museum)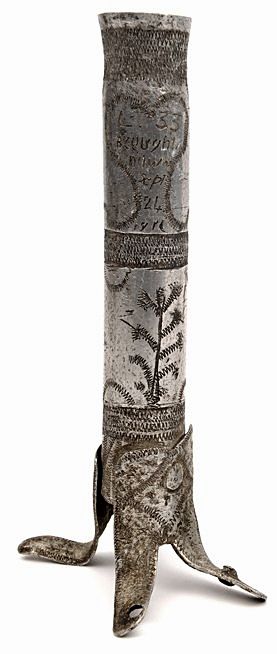 (above) candlestick with engravings (courtesy, David Kirch)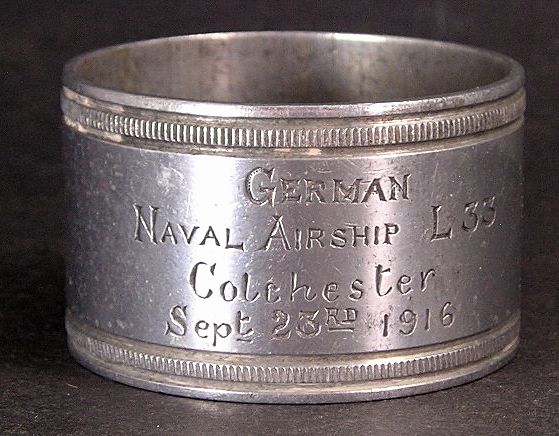 (above) napkin ring made from L33 metal (image courtesy, eBay)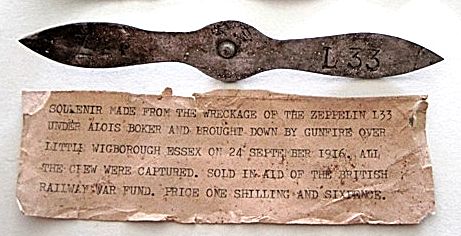 Model propeller souvenir sold for the British Railway War Fund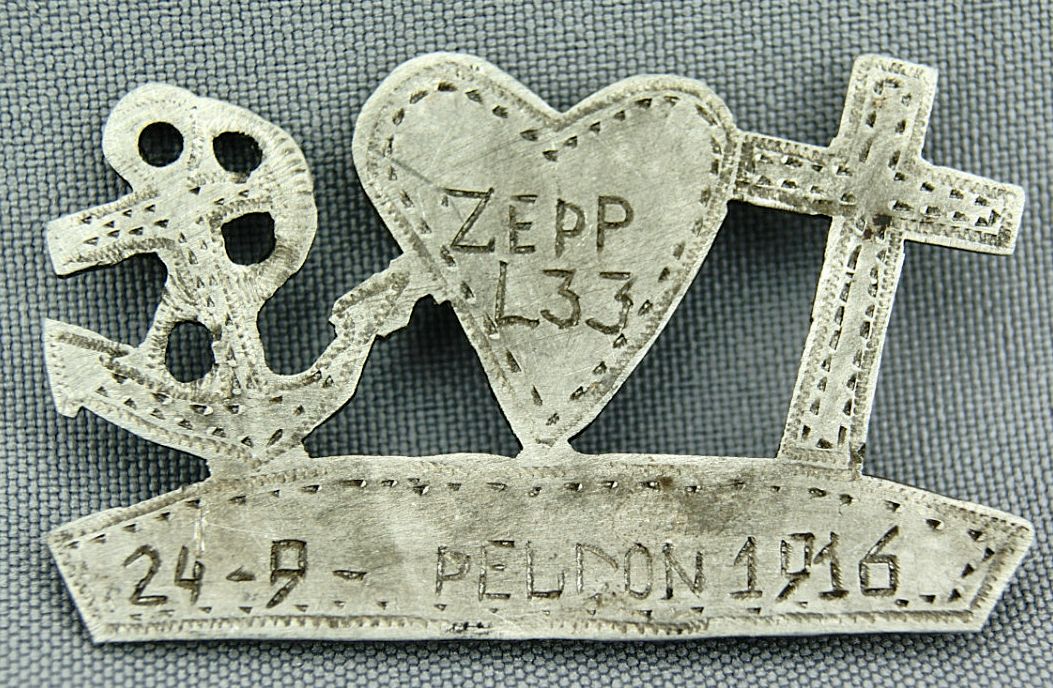 Ornate Brooch (image - courtesy, eBay)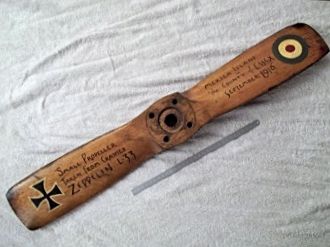 A Wooden Propellor inscribed "Small propellor taken from Gondola ZEPPELIN L-33 Mercia Island the County of Essex September 1916"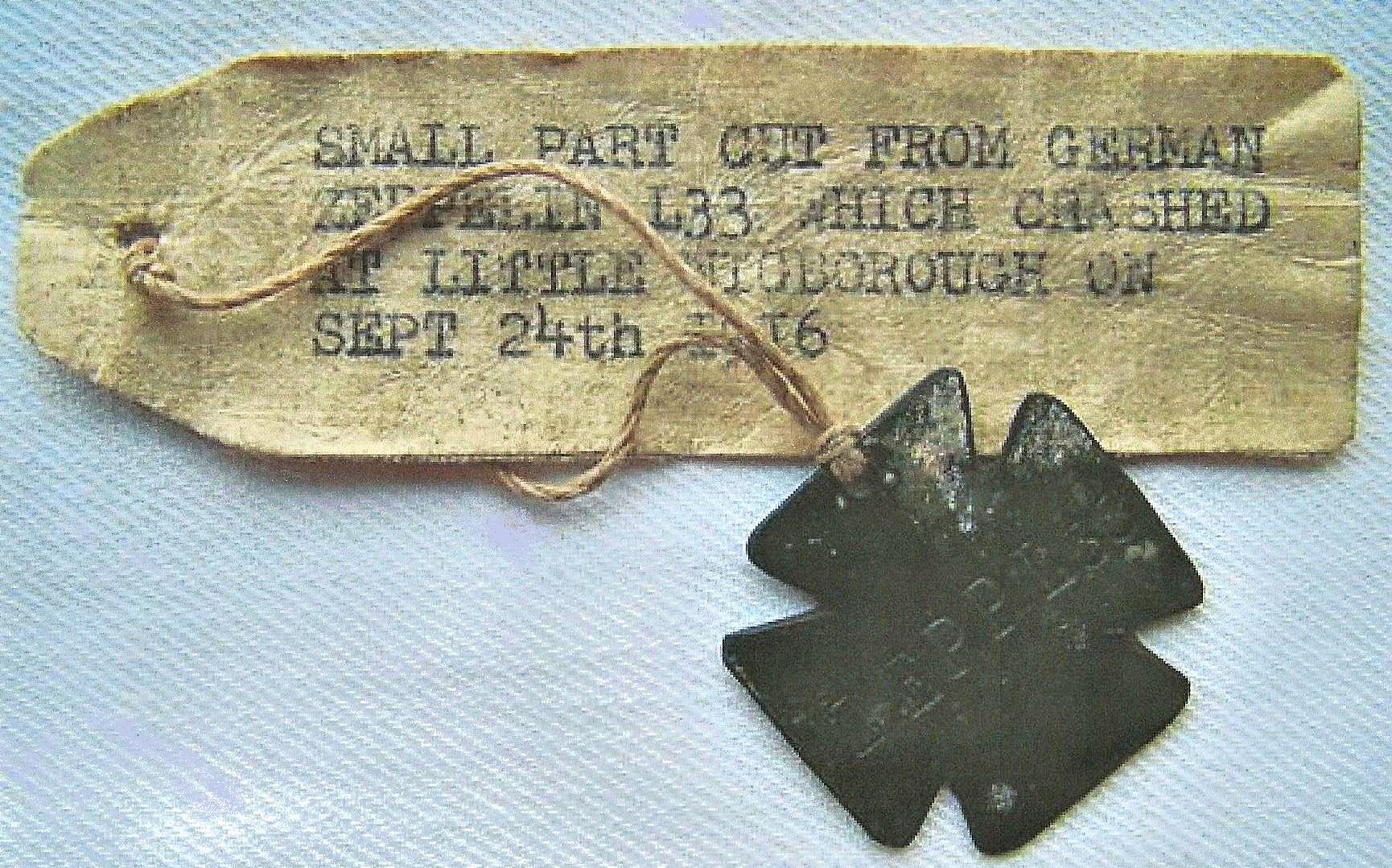 Stamped piece of duraluminium - a German Cross charity souvenir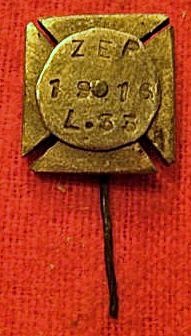 Brooch on a pin marked "ZEP 1916 L33" (image - courtesy, eBay)




(above) pin-brooch (souvenir/sweetheart jewellery)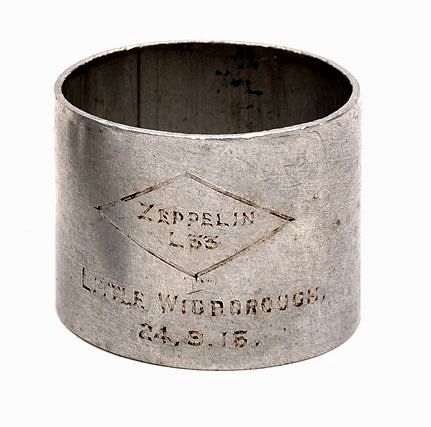 Napkin ring "Little Wigborough 24.9.16" (image - courtesy, David Kirch)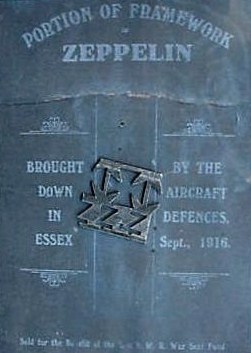 Framework fragment shaped into a German Iron Cross, sold for the British Railway War Fund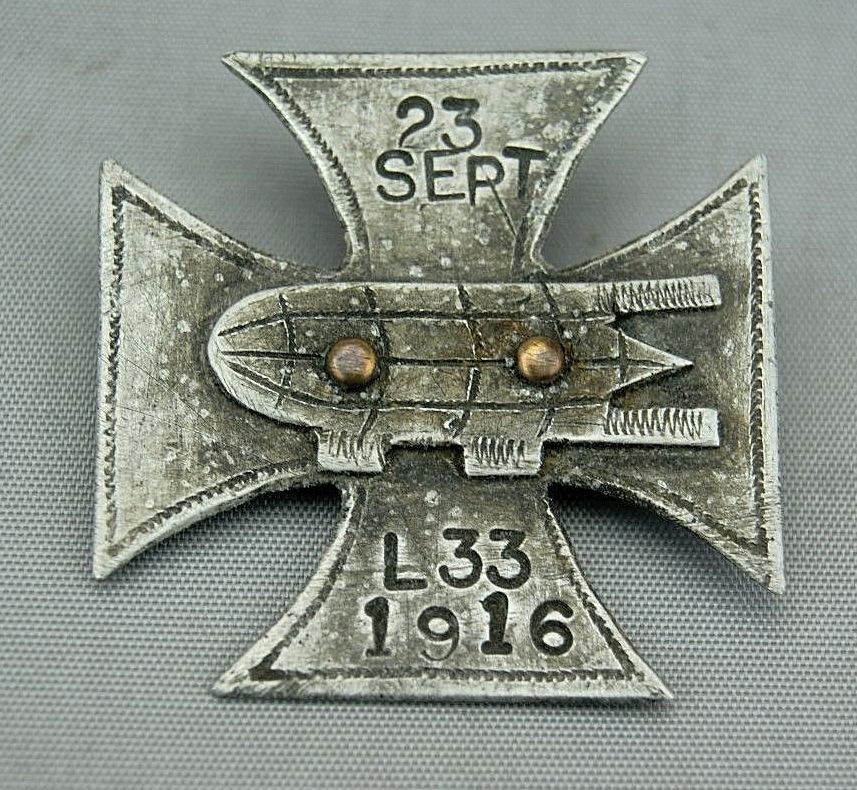 Brooch on a pin (image - courtesy, eBay)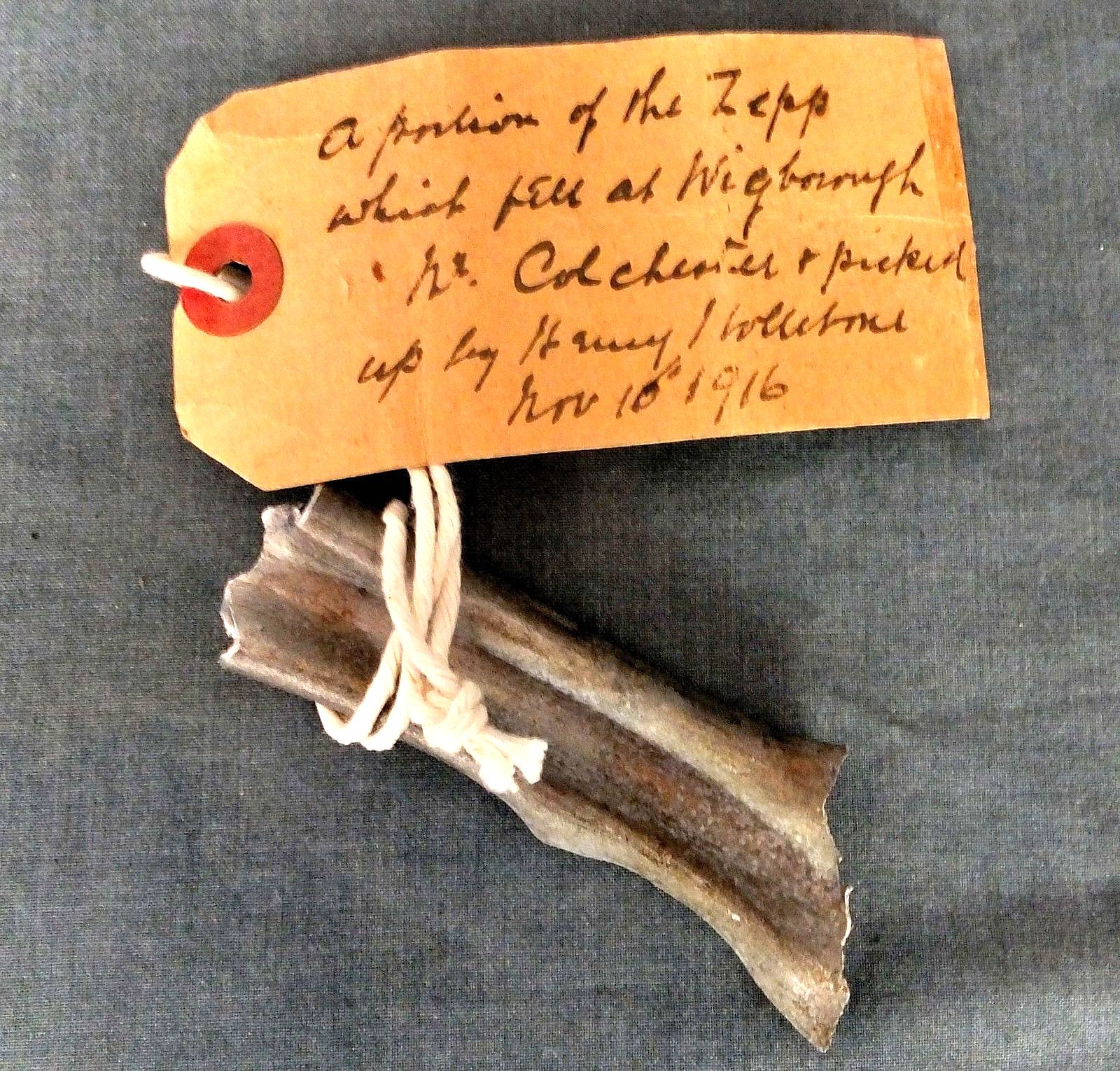 Labelled fragment of duraluminium (courtesy eBay)

(Below) detail of framework, recovered from the crash site (courtesy Aero Conservancy)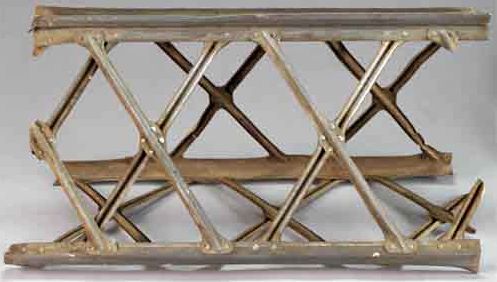 (Below) Control Panel, recovered from the crash site (courtesy Imperial War Museum)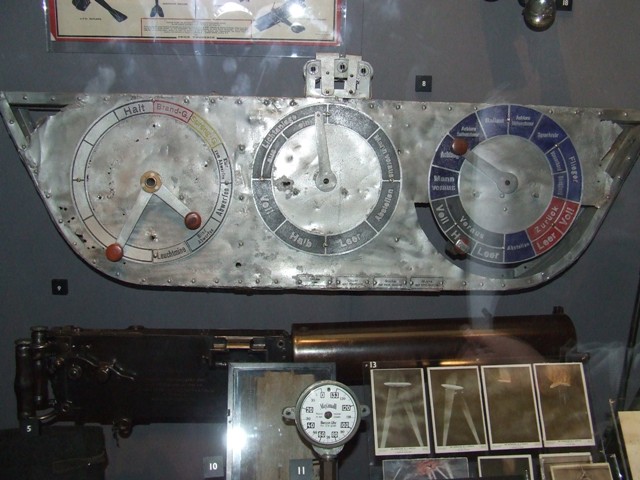 (Below) Compass, recovered from the crash site (courtesy Royal Museum, Greenwich)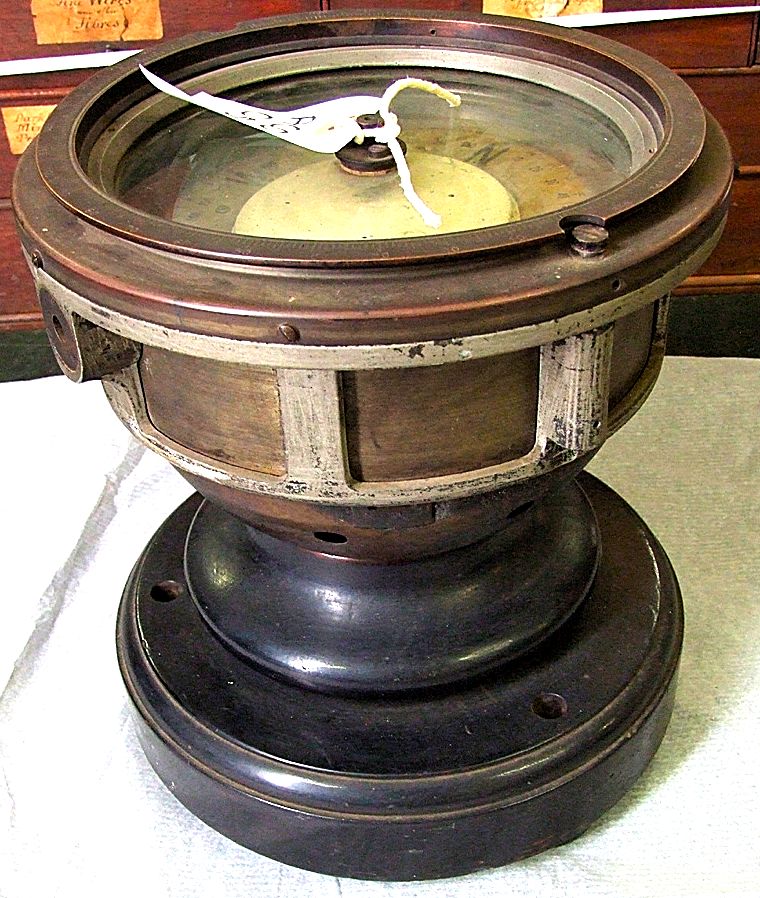 (Below) Wheel fragment, recovered from the crash site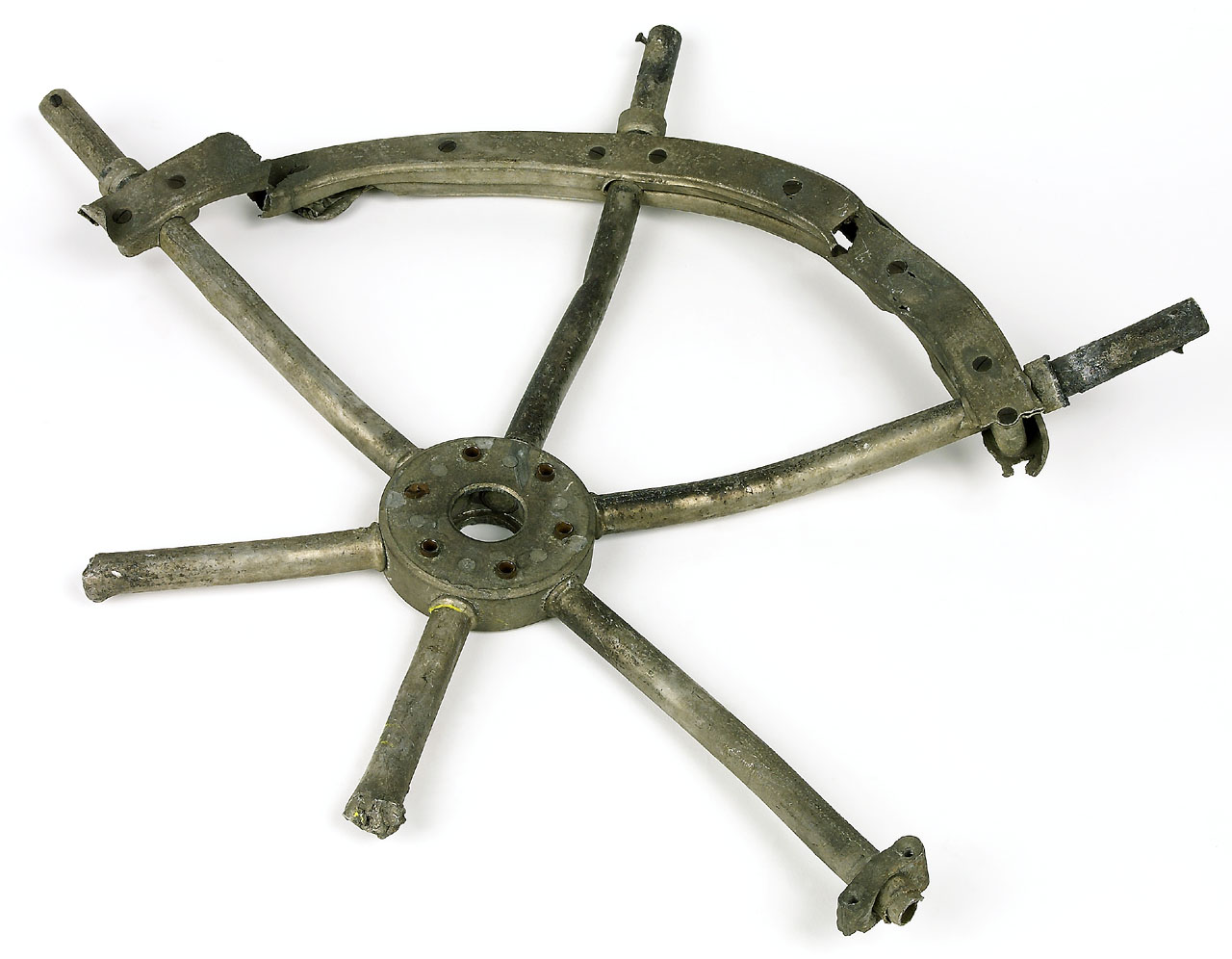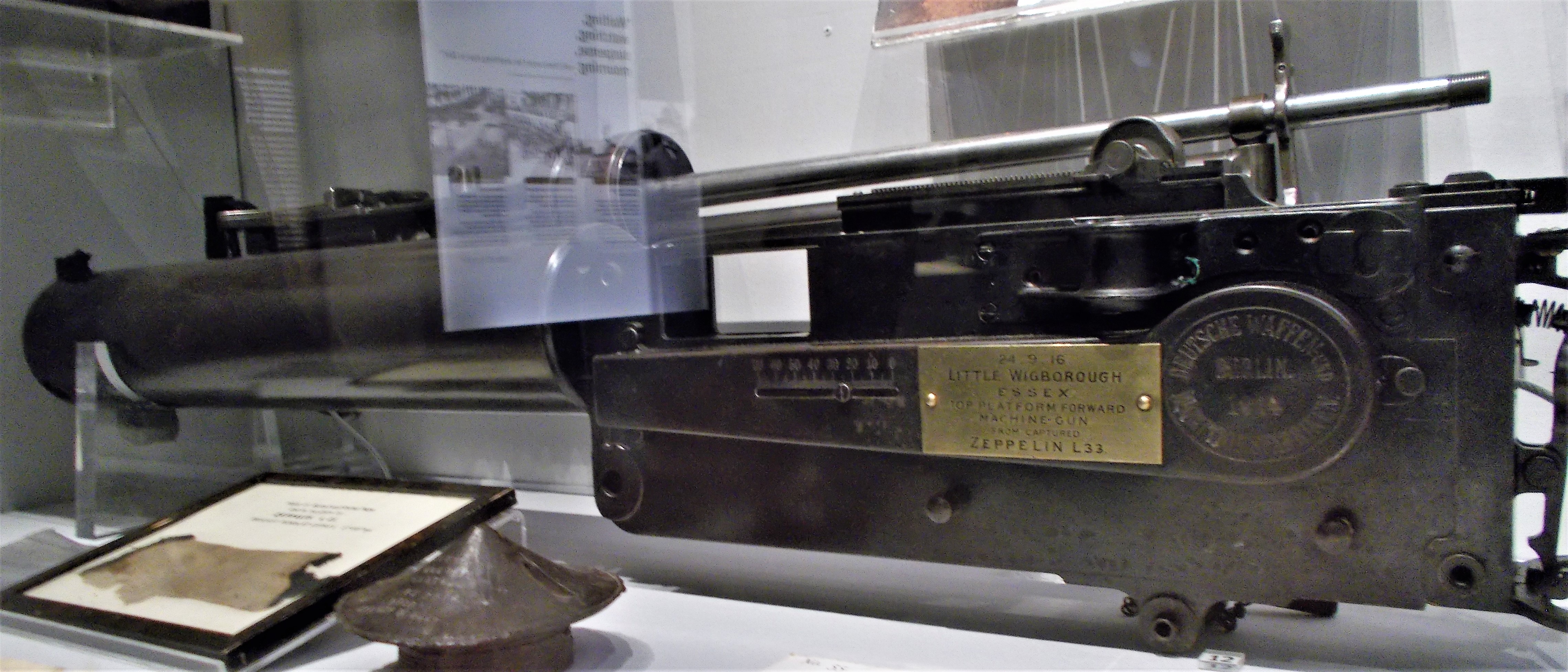 Machine Gun recovered from the L33 (courtesy IWM Manchester)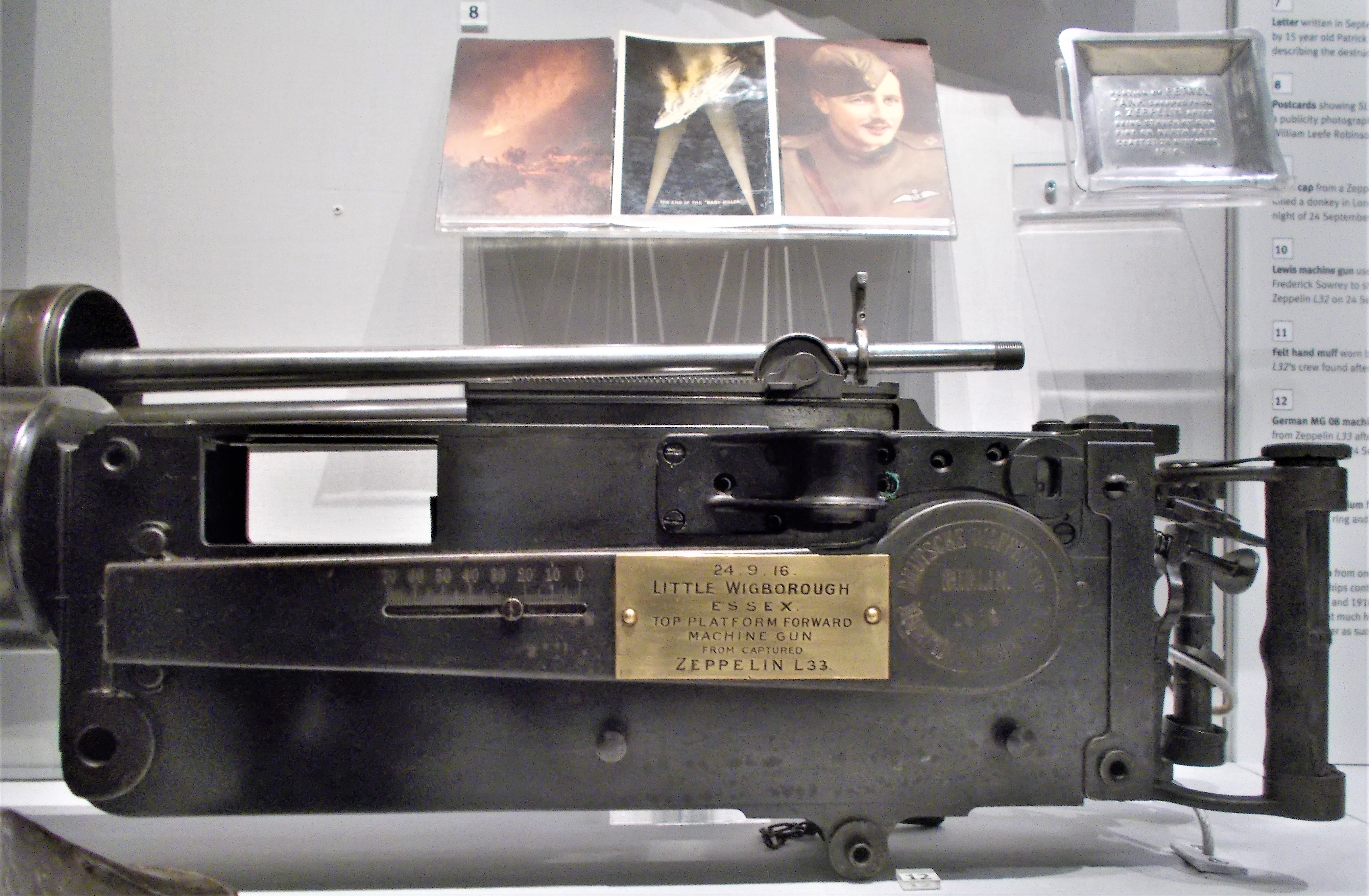 Topical Books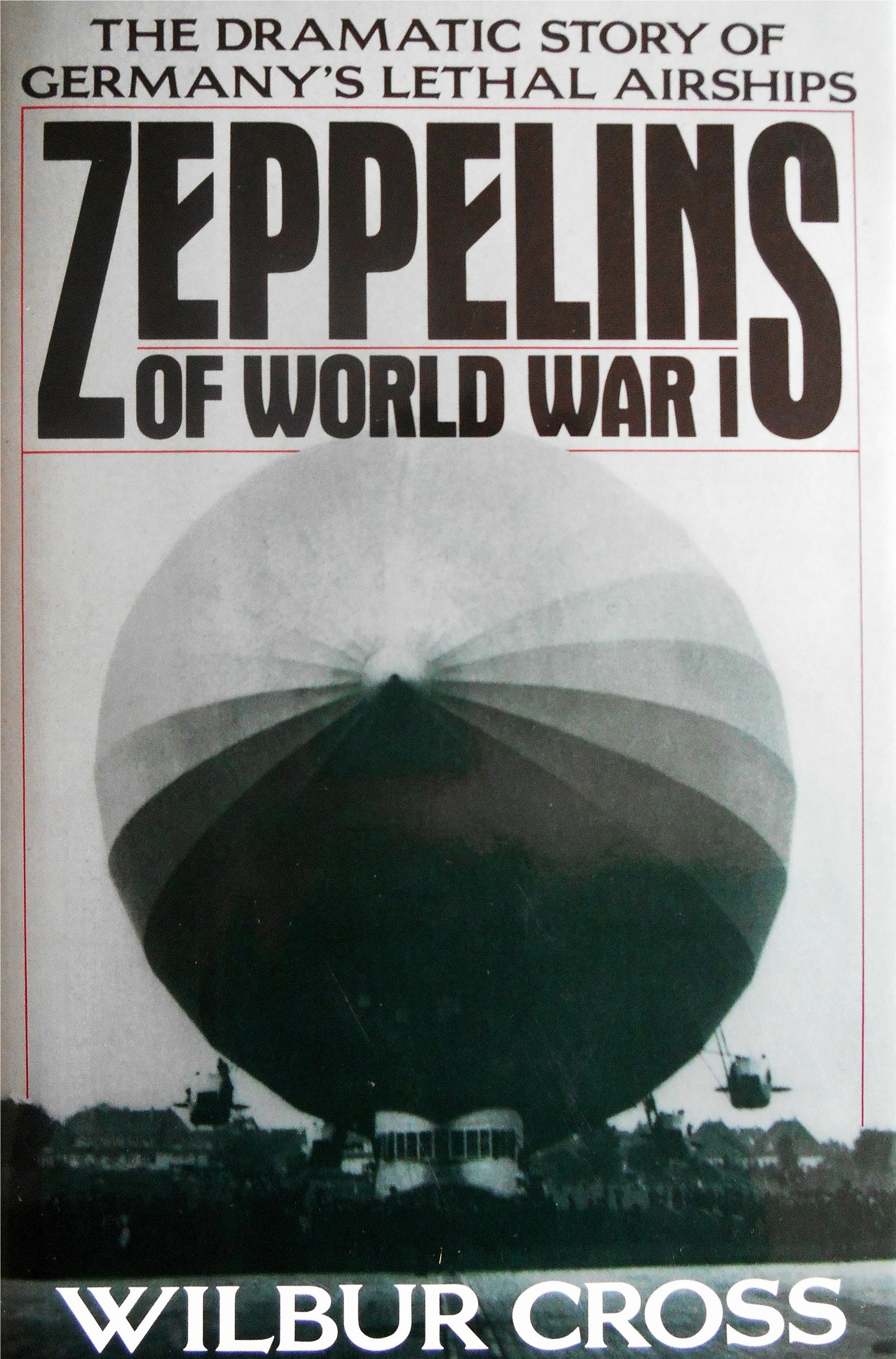 ZEPPELINS OF WORLD WAR 1
by Wilbur Cross (1991) ISBN 1-85043-353-4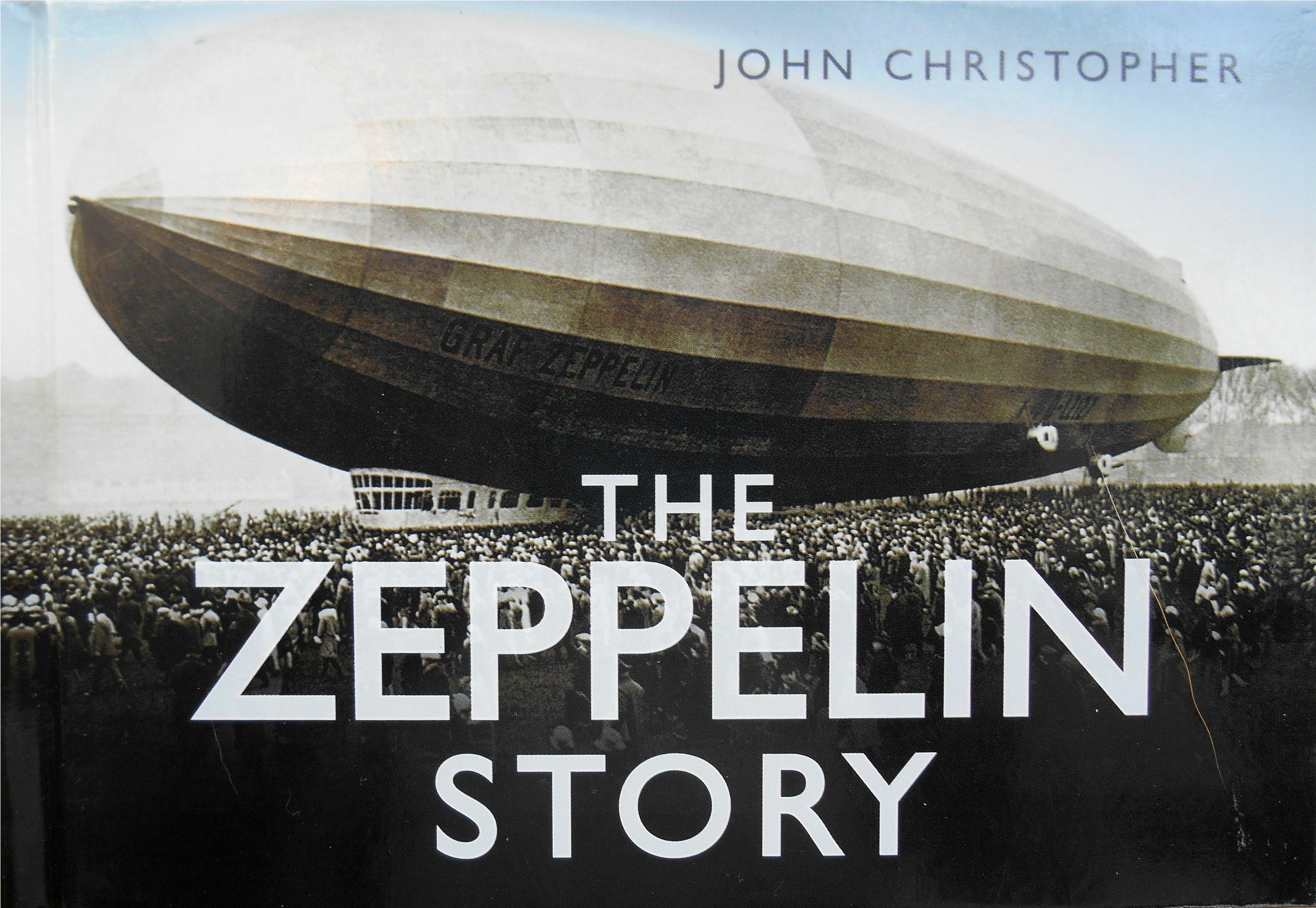 THE ZEPPELIN STORY
by John Christopher (2010) (ISBN 978-0-7524-5175-6)